"Gravity/Love" Showcases Beautiful Songwriting Talents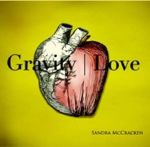 Artist:  Sandra McCracken
Title:  "Gravity/Love"
Label:  Towhee
After a two-year hiatus from the recording studio, singer/songwriter Sandra McCracken returns with "Gravity/Love." This marks the fifth release from McCracken, and the disc falls in line with her folk/rock/roots sound primarily established back in 2002 with "Gypsy Flat Road" and again in 2004 with "Best Laid Plans."
Whereas "Best Laid Plans" explored themes of irreconcilable relationships and conditional love, this album is full of love gone right. The first track, "Head Over Heel," is a catchy number reminiscent of Sheryl Crow with its memorable melody, driving guitars and drum line and whimsical, upbeat, albeit brief, chorus.
Other tracks, such as "Doubt," recall a more vintage-inspired sound à la Jackson Browne. Most of the tracks are mid-tempo, and the instruments range from strummed acoustic guitars and piano-based tracks like the gorgeous "Portadown Station" to some nice, mellow electric guitar and steel rounding out the album's appeal.
McCracken garners help, as always, from her husband and solo artist, Derek Webb (formerly of Caedmon's Call). Peter Collins (Elton John, Indigo Girls) helms the production, as he did on her debut. Collins may help bring McCracken's songs to life sonically, but the real beauty lies, once again, in the songwriting.
Eleven tracks harbor the beautiful images and original metaphors that McCracken is so talented at crafting. No one could dispute her talent as a wordsmith after first listen.
The only disappointment with this disc is in the intensity. McCracken delivers her message with the precision of a seasoned performer, but there's something absent here. She sounds less engaged in comparison to past offerings. This disc is less moody, more mainstream and, perhaps, lacking the passion so evident in her earlier work. First time users may not notice, or care, because "Gravity/Love" is good, regardless.


© 2006 CCM Magazine.  All rights reserved.  Used with permission.   Click here to subscribe.