Gray's Losers an Anthem for the Underdogs
Rachel Harrold

CCM Magazine

2007

21 May

COMMENTS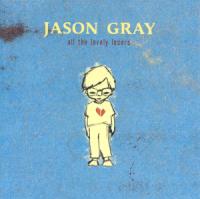 Artist: Jason Gray
Title: All the Lovely Losers
Label: Centricity
There's something refreshing and inspiring about an artist who embraces the reality that we're all losers at heart, each facing our own insecurities. And singer/songwriter Jason Gray does just that as he lays his heart on the line through his music and stands up for "the little people." With his label debut, All the Lovely Losers (Centricity), the one-time independent artist offers songs laced with hope and surrender with an everyday approach.
Gray's songwriting is honest and insightful, each of the 13 tracks encouraging listeners to find strength in God through admitting weakness. The first track, "Blessed Be," sets the tone of the album, with a Brit-rock sound reminiscent of the mainstream band Keane. On "Sing through Me," Gray writes, "I just pray that the words will come/When You sing through me/The song I long to sing to You," affirming that his art is not about him. Other lyrical gems include "I don't want to move unless You're moving me" ("Move"), and "Your heart lays me bare/The shaping of my soul/The cut makes me whole" ("The Cut").
The respect Gray draws in the artist community is evident as Sara Groves, Andrew Peterson, Waterdeep's Lori Chafer and PFR's Joel Hanson contribute their distinct talents to the album. It's no wonder. Although many of the tracks may have a pop-like feel, Gray's lyrics are full of depth and truth—his songwriting could easily draw comparisons to that of Steven Curtis Chapman or the late Rich Mullins.
It is clear from his words that Gray knows what it's like to struggle. Growing up as a chronic stutterer in an abusive home has shaped his upbringing and forced him to rely on God for strength in his adversities. Today, he strives to stand up for those less fortunate and is a spokesperson for World Vision, with a heart for AIDS orphans. Gray's artist bio sums up his passion for the "losers" as he says, " . . . For those of us who don't have it in us to be impressive or strong, who couldn't get our act together if our lives depended on it, the good news is that there is a preferred place as honored guests in God's kingdom for us and that all the losers are made lovely by His grace." Blessed are the losers.




© 2007 CCM Magazine. All rights reserved. Used with permission. Click here to try a free issue.