Green's Always Ready for Congregational Worship
Kevan Breitinger

CMCentral.com

2008

7 Jan

COMMENTS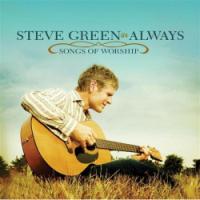 Artist: Steve Green
Title: Always: Songs of Worship
Label: Sparrow Records
Steve Green, a longtime pillar of the Christian music industry, four-time GRAMMY nominee and six-time Dove Award winner, is back with his 33rd album … yup, count 'em, 33. The high count can be explained partially by a number of albums recorded in both English and Spanish (he grew up in Argentina), but it must be said that the guy is just plain prolific as well, selling over 3 million albums in his 20-year career.
Always: Songs of Worship is just what it says: eleven tracks of congregation-ready worship songs, most of them familiar, all of them delivered with great sincerity, a prominent element of Green's signature vocal style. The eleven tracks cover songwriters as diverse as Babbie Mason and Martin Smith, as well as two hymns, one contemporary, one traditional.
The bouncy opener "I Will Bless the Lord" is guitar-driven pop worship, Sunday morning ready and immediately familiar to his contemporary audience. The percolating rhythms of "Indescribable" add some much needed texture before the background vocalists join Green for a big finish. But I have to say I thoroughly enjoyed Green's soft yet passionate rendering of Martin Smith's "Majesty (Here I Am)."

The string-laden "Out of Ashes" goes back to the old school approach, featuring Green's dramatic signature vocals, brimming over with emotion and heartfelt worship that rings true. The gentle confession of trust, "I Will," ushers in a string of soft worship ballads. Supreme among them is Nichole Nordeman's gorgeous, melodic "Glory," again deeply worshipful and congregation ready. An Irish whistle gives a Celtic take to the nuanced, reverent "In Christ Alone," which builds to an enthusiastic climax of worship.

I appreciate Green's choice to close with the quiet but stalwart hymn "Father, Hear Your Children." The song of humble penitence, delivered softly over quiet acoustic guitars and throbbing string programming, contains lyrics of prayerful faith, some traditional and some added by Green. It's a strong finish to an authentic worship project that will surely please Green's fans.




© 2007 CMCentral.com. All rights reserved. Used with permission.



Visit CMCentral.com now and join the single largest online community of Christian music fans on the internet. CMCentral features daily music news, exclusive interviews, album reviews, weekly devotions and feature articles written by some of your favorite Christian artists, and much more. CMCentral is also the home of the most popular Forum for Christian music fans that you'll find anywhere on the Internet. Come see what all the buzz is about!