Grey Holiday Brings Fun, Focus to Glorious Revolution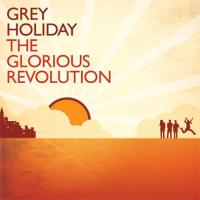 Artist: Grey Holiday
Title: The Glorious Revolution
Label: Essential Records
What stands out quickly on a first spin of The Glorious Revolution is the focused sense of mission. Yes, the Texas-based quartet is having a good time, and so will you, but there's something more happening here … something significant.
Beneath the throbbing guitars and heavy rhythms of opener "Glorious" is an anthem of recognition. Producer Jason Ingram's touch is apparent, but it's the warm lyrics of co-writer/guitarist/keyboardist Matt Minor that really penetrate: "Heaven knows You have done enough/You bent the stars to fit my view/You're the blanket of unending love."
The tension continues with the following "Let Go," its hooky chorus a melodic cry for release. This first single examines the paradox of our yearning to die. The airy ballad "You Belong to Me" is lustrous with tasty touches and emotion, while rocker "Revolution," strewn with sonic effects, is a wake-up call taut with urgent energy. And lest you think Grey Holiday doesn't know how to celebrate, there is bouncy pop-rocker "Where You Want Me, melodious, smart, and yes, straight-up fun.
The album highlight has to be the wildly melodic ballad "Low," Minor's soft vocals deeply expressive of a desire for true humility. Written by the dream team of Minor, Mitch Dane, and Ingram, the track's tenderness really taps into the soul's yearning for that vital trait which so often seems just out of our reach.
In recognition of the voracious appetite of today's listener, Grey Holiday put together a fresh new form: The Glorious Revolution features only 6 audio tracks, but also included is a 13-and-a-half-minute radio interview introducing the band, showcasing song stories, their hearts and their humor. There are three videos, a songwriting journal, early song demos, video shorts and outtakes. A second project is expected within ten months, also fully loaded with audio and video content. Prepare to be spoiled by Grey Holiday.



© 2007 CMCentral.com. All rights reserved. Used with permission.



Visit CMCentral.com now and join the single largest online community of Christian music fans on the internet. CMCentral features daily music news, exclusive interviews, album reviews, weekly devotions and feature articles written by some of your favorite Christian artists, and much more. CMCentral is also the home of the most popular Forum for Christian music fans that you'll find anywhere on the Internet. Come see what all the buzz is about!