Guest Emcees Give Facelift to tobyMac's "Diverse City"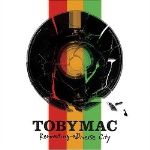 Artist:  tobyMac
Title:  "Renovating Diverse City"
Label:  ForeFront
It worked once before, so why not try it again? You'll recall the "Momentum" remix collection was a blast of fresh air, a simple matter of letting a group of mix masters remix their tobyMac song of choice with totally tricked-out results – kind of like putting 22-inch rims on your '89 Cadillac.
And once again, tobyMac is making his music as diverse as possible by inviting other emcees to experiment like mad scientists on his "Welcome to Diverse City" record a year after its release. He winds up with a timely, 13-song companion disc that's practically exploding with the composite talents of Christopher Stevens, Tedd T, Superchic[k]'s Max Hsu, Matt Bronlewee and Paul Meany, to name only a few.
Toby skeptics (Are there any of you left?) may be wondering, "Why should I go out and buy the same record all over again?" Precisely because this is a fevered musical melange even the general market has never seen. The songs retain their lyrics and core melodies, of course; but you'll pick up razor-sharp rap sessions, fresh samples, pulsating dancehall beats, louder rock and a heaping spoonful of reggae and Latin. This is living proof that all genres come together in tobyMac's hands. World peace? No problem.
When choosing tracks for your iPod, you'll feel like a kid in a candy shop. The happy, hip-hop "Hey Now (d Dubb Remix)" is a get-your-back-up-off-the-wall sequel proclaiming one God and one love for all people. TRU-Dog, tobyMac's young son, shows up on "inTRUding Again" with enough presence to fill up a room, rapping "Move over Grover/ I'm about to intrude on this jam right here."
And "Catchafire (White Rabbit Mix)" could go straight to the club with a stunning appearance by M.O.C. Thanks to T-Bone, "The Slam (d Dubb remix)" also strikes again, Eminem-style, layered over ethereal background vocals, while "Diverse City (Club-a-dub Remix)," basks in synthesized glory.
With this kind of artistic freedom, T-Mac is sure to continue successfully reinventing himself until dc Talk comes back.

© 2005 CCM Magazine.  All rights reserved.  Used with permission.   Click here to subscribe.