Guitar Work Is Good, Beats Are Strong on Nevertheless' Debut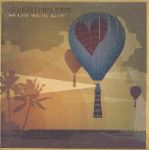 Artist: Nevertheless
Title: "Live Like We're Alive"
Label: Flicker
Sometimes a near break-up is the best thing that can happen to a relationship. That's what seems to be the case for Nevertheless, a band of five guys from Chattanooga, Tenn.
When Josh Pearson left town to go to college, it was hard for the band to keep playing. But Pearson kept writing, and so did other band members. And, when he came home for the summer, the band seemed stronger than ever. Nevertheless played several shows with its newfound energy and had a decision to make: Go back to school or commit to the band? The band, and audiences across America, won.
On this debut album, the band's lyrics are deep. Nevertheless speaks of familiar themes, such as hope, grace and love, and some less popular topics, such as doubt and sacrifice; but they do so with skill that rocks. In the track "Losing Innocence," they sing what is probably the unspoken goal of every generation: "We try to come as close as we can to what we can't and not get caught …/ We're dancing on the fence; we're losing innocence, but we can't expect to live like this forever/ We weren't made to live like this, no never!"
In the title track, Nevertheless sends out a message of hope and encouragement that could be an anthem for audiences everywhere: "So here I stand/ I'm ready for anything/ Just a man, but I'm giving everything/ We're only here for a second, and then we're gone when we least expect it/ So do more than survive/ Let's live like we're alive."
In a curious move, though, the band repeats some of the above lyrics in the song "Let It Fall." It's a good theme, but does the same wording belong in more than one song?
The guitar work is good, the beats are strong and the passion and energy of the band come through loud and clear. It's the kind of album that makes you want to go see them in concert and witness the energy yourself. My guess is that they play like they're really alive, and the audience is resurrected as well.


© 2006 CCM Magazine. All rights reserved. Used with permission. Click here to subscribe.



You can view Nevertheless music videos at Godtube.com!