Gungor's Ancient Skies Ready for the Masses
Matt Conner

CMCentral.com

2008

29 Sep

COMMENTS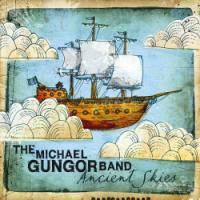 Artist: The Michael Gungor Band
Title: Ancient Skies
Label: Brash Music
Label debut confirms brilliant talent of Gungor & Co. …
The move was inevitable. In fact, it's surprising it took this long for Michael Gungor and his band to find a label home. The group's independent disc wowed with its expansive worship songs and strong musicianship, placing Gungor on the fast track to Christian radio and church worship sets everywhere. Now, Brash Music (home to Aaron Shust) stands ready to introduce the Colorado band to the masses.
Ancient Skies kick-starts with "Say So," one of the newer tracks by Gungor not previously released. It's an attempt at a rousing number that falls short with an overly churchy anthem of "let the redeemed of the Lord say so," a King James sort of statement that fails to connect in the way it was intended to. This is unfortunate because impatient listeners will miss the beauty and brilliance offered here on occasion.
"Be Praised" should be the opening act, as the triumphant, epic anthem builds and breaks perfectly alongside its vertical statements. "Giving It All" relies on strong pop sensibilities to convey a message of abandonment to God. The title track stuns with its creation-puts-us-in-awe balladry and is a sure-fire AC hit (think a stronger "God of Wonders").
Gungor & Co. also stretch their wings throughout the album, never more so than on "White Man." The surprisingly titled song treads into Derek Webb territory, although it lightly and playfully guides the listener through statements of "Atheists and charlatans/Communists and lesbians/And even ole' Pat Robertson/O God, He loves us all/Catholics or Protestant/Terrorist or president/Everybody… He loves us all." It's a fantastic, simple song of love, of hate and of holding a proper perspective.
The independent release made it clear, and this studio effort only bolsters the main idea: Michael Gungor stands as a brilliant talent. Ancient Skies showcases both God's glory and this band's expertise.
© 2008 CMCentral.com. All rights reserved. Used with permission.




Visit CMCentral.com now and join the single largest online community of Christian music fans on the internet. CMCentral features daily music news, exclusive interviews, album reviews, weekly devotions and feature articles written by some of your favorite Christian artists, and much more. CMCentral is also the home of the most popular Forum for Christian music fans that you'll find anywhere on the Internet. Come see what all the buzz is about!

**This review first published on September 29, 2008.