Hard Not to Sing Along with Here We Go Again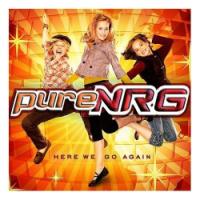 Artist: pureNRG
Title: Here We Go Again
Label: Fervent
Here We Go Again, the sophomore project from tween group pureNRG is infectious. Whether young or old, it's hard for a listener not to start singing along to this CD. Following in the success of groups like Jump5, Miley Cyrus and Jonas Brothers, pureNRG takes positive power pop to a young audience.
The songs on Here We Go Again are essentially well done. Like their debut project did with "Footloose" and "Thy Word," Here We Go Again relies on adult-friendly songs "Ain't No Mountain High Enough," "That's What Friends Are For," "More" and "Call on Jesus" to bring older songs to a new audience and to give parents something familiar to listen to with their children.
"Girls Can Change the World" is a surprisingly socially-aware song of how girls can tear each other apart with drama and back-biting. It successfully encourages girls to work together to make a positive impact on the world. The teens in pureNRG are effectively using their platform to motivate their peers to love and not act just as the world does. The song "Get Up" also serves to inspire teens to move in love and not sit in apathy.
Here We Go Again brings enhanced maturity from members Jordan, Carolyne and Caroline. The only drawback is that four of the 12 songs are covers. Fortunately, pureNRG's rendition of each cover is distinctly different than the original. However, it would be nice to see more original songs on a future project.





©2008 ChristianMusicPlanet.com. All rights reserved. Used with permission.




*This review first published on July 25, 2008.

Be sure to check out pureNRG music videos at Godtube.com.