Have a Little Faith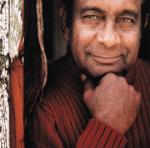 If you're not familiar with the name Jimmy Little, then you're probably not from Australia. For Aussies, Little is a household name, thanks to a career that has spanned five decades and included everything from music to acting to speaking. And while this Australian Aborigine has stayed busy in his homeland carving out his prestigious career, he has never felt "called" to take his music and message to the rest of the world — until now.
"I've had opportunities in the past to introduce myself on a greater scale, but whenever I had the [chance] to do so, other things at home moved into place," muses Little. "So I've been following the lead of my Master saying, 'OK, You know better than me. I'll go where and when You want me to go.'" And Little's faith has certainly led him down many diverse paths throughout his career.
It was a song about a talk with God called "The Royal Telephone" from an album of the same title that propelled Little to the top of the mainstream Australian charts in 1963. Although the music around him was changing, Little maintained his music-with-a-message style and released three consecutive gospel albums.
"Beatlemania was happening at that time [along with] lots of great dance music," Little remembers, "But I was the only one [in Australia] seriously singing songs about faith."
Today, Little is one of the most respected and in-demand artists in Australia. He recently teamed up with Olivia Newton-John for a duet on her latest release, "Olivia (2)," and also joined forces with Aussie pop diva Kylie Minogue on "Bury Me Deep in Love," featured on "Corroboration," an album that unites indigenous and non-indigenous Australian artists. In the last two years alone, Little has been inducted into the ARIA Hall of Fame, received the inaugural Yamaha Golden Gospel Award from the governor general of Australia, and most recently was named Senior Australian of the Year 2003, New South Wales.
"I have always looked for an opportunity to express my faith," says Little. "Whatever people see me as — singer, storyteller, amusing traveling minstrel man —  I have a golden opportunity [to minister]. It's so important for all of us not to forget that God wants to be ever-present in the things we do, regardless of what our careers may be."
And it now looks like his career will include a new realm outside his homeland. Little recently joined Australia's ABC Records and already has the next three albums — aimed at the international market — planned out.
"I feel like the Lord's been preparing me for the global village, and I'm ready now." He laughs, "I'm a big fish in a little bowl."
For more information on Jimmy Little, check out CCMmagazine.com.

Used by permission.  CCM Magazine © 2003  Click here to subscribe.