Hawk Nelson Ponders Authentic Faith on Crazy Love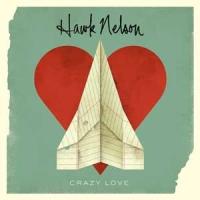 Artist: Hawk Nelson
Title: Crazy Love
Label: BEC Recordings
A Christian rock band calling its new album Crazy Love invites comparison to Francis Chan's current book of the same title—a million-seller aimed at believers "hungry for an authentic faith that addresses the problems of our world with tangible, even radical, solutions."

Indeed, Hawk Nelson's fifth punk-pop outing borrows its name from that source. Lead singer Jason Dunn says Chan's writing, "made me realize how much God loves each and every one of us ... We need to wake up and grasp the meaning of what he did; Jesus made something completely unattainable, attainable, and we are called to live in and practice that same 'crazy' love."
With all that said, Hawk Nelson's Crazy Love is not the sonic equivalent of Chan's more stimulating written word. But for a teen-friendly group to play toward this sensibility rather than whatever's going on at MTV is cause for celebration. On its own, the record emphasizes a stylistic return to the Ontario-bred band's loud and fast but always melodic roots; its past two efforts had traded some edginess for accessibility. Sounding like a football team surfing a rockslide, set opener "Tally-Ho" is pounded out Ramones-style in just ninety-nine seconds. "Skeleton" and "Fraud" are also both raucous and elaborate while "LAX" is just playful nonsense. There's a light, early Green Day air about "We're Alright," and the breakup song "Joanna" masterfully blends punk with 1950s harmonies a la Relient K.
The other side of this Hawk Nelson coin—where you can make a Chan connection—is the wonderment over the gospel that's heard on modern alternative tracks like "Your Love Is a Mystery" and the spot-on anthemic title cut where Dunn sings: "This world looks at us like we're ridiculous. Maybe it's all because of crazy love." Tenth Avenue North fans would enjoy "My Next Breath," an equally outspoken mid-tempo ballad. "We Can Change the World" is certainly ambitious, but so is Hawk Nelson, rising to the song's epic proportions even if the quartet does seem unsure lately of its proper footing between the punk and pop extremes.
Crazy Love ends with "Thanks for the Beautiful Memories," a sweetly rendered band biography tune that could almost be mistaken for a more lasting goodbye. Here's hoping that isn't the case. While this album isn't crazy good, it's enough that longtime fans can still be crazy about Hawk Nelson.

**This review first published on February 8, 2011.