Hear Me Won't Be Ignored
Lindsay Williams

Crosswalk.com Contributing Writer

2013

18 Mar

COMMENTS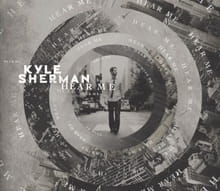 Artist: Kyle Sherman
Album: Hear Me
Label: RayLynn Records
Fort Worth, Texas-native Kyle Sherman unveils an eclectic mixture of pop, worship and country on his debut album, Hear Me. As the flagship artist for Texas-based RayLynn Records, Sherman is charting his own course with the songs on his first full-length release. Stylistically, Sherman covers a broad range of genres, but his voice most comfortably finds a home in the country arena. This is undoubtedly a reflection of the work of producer and fellow songwriter Mark Collie.
Collie's tenure with country superstars like Tim McGraw, Martina McBride and Garth Brooks shines through on the 12 tracks that comprise Hear Me. In fact, songs like "He Prayed for Me" or the boot-tapping cut, "Heaven," could ease their way onto the country charts, snugly resting in between singles from Rascal Flatts and Brad Paisley. (The latter even finds the songwriter hoping he can bring his dog along to heaven.)
Yet, Sherman's full, layered vocals also recall Phillips, Craig & Dean at times, such as on the worshipful anthem "Fountains" or the beautiful "All Things New (Hallelujah)."
On the other end of the spectrum lies the soulful "Build It On the Rock," complete with a gospel choir. The only thing that would make the song better is a cameo appearance by Jason Crabb. Then, "New Life" tackles an old-school black gospel sound that reveals Sherman's diversity as a vocalist.
Meanwhile, songs like "Come to Me" and the title track highlight Sherman's penchant for powerful lyrics. On "Hear Me," his vulnerable words portray a man crying out to God, wrestling with things not easily understood: "Hear me when I cry/ When I'm tangled up inside, hurting and empty/ Hear me/ When I get so mad at You/ Don't understand the things You do/ Drives me crazy…"
By far, the best song comes near the end with "The Greatest Tear," which Sherman calls his "ultimate love song." The track, co-written by RayLynn Records co-founder Bob Simpson and Collie, is told from God's perspective the day His son was crucified. Sherman's impressive vocal range is given the spotlight, the singer hitting the high notes with supreme accuracy.
All in all, there's something for everyone here, and his stylistic variety should translate well as he opens for Francesca Battistelli on the "Hundred More Years Tour" this spring. However, it's fans of country that will appreciate Hear Me from top to bottom. These songs showcase Sherman's talent as a singer and a songwriter, but it would serve him well to weave together a more cohesive collection of cuts that play to his strengths for his sophomore release. He tends to lean country—even on the pop tracks—and that's definitely where he shines.
*This Review First Published 3/18/2013