"Hiding Place" Provides Musical Solace for Weary Souls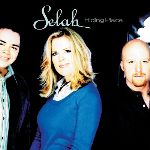 Artist:    Selah
Label:    Curb
Inspirational music seemed to almost be a genre of Christian music's past until Selah's sound gracefully placed it back on the charts. Finding mass appeal through the almost accidental success of its 1999 debut, "Be Still My Soul," the trio successfully toured the country, accepted a handful of Dove Awards, garnered No. 1 radio singles and released a definitive sophomore release in a relatively short amount of time.
Continuing in its tradition of hymns, African spirituals and worship classics, the group's fourth studio recording, which recently debuted at the top of the Christian charts by selling more than 19,000 units its first week out, firmly establishes it as an industry mainstay. From the Irish-tinged opening cut, "You Raise Me Up," to the stunning closer "Before the Throne of God," simple, yet effective production defines the unmistakable sound fans have come to know as distinctly Selah.
Siblings Todd Smith and Nicol Sponberg effuse uncompromising vocals throughout the recording, floating over such church standards and album highlights as "I Need Thee Every Hour" and "Through It All." Joining with a band for a few cuts does little to enhance the group creatively, further emphasizing the irresistible pleasure of Selah's piano/vocal moments.
Despite the occasional trite arrangement, one cannot refute the group's powerful interpretation of such compelling lyrics: "Because the sinless Savior died/ My sinful soul is counted free/ For God the just is satisfied/ To look on Him and pardon me." And that begs to be played again and again.

© 2004 CCM Magazine.  All rights reserved.  Used with permission.  Click here to subscribe.