Hip-Pop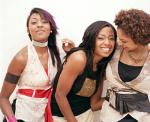 If you're a fan of Relient K, Jennifer Knapp, GRITS, Sonicflood or The Katinas, then you owe Out of Eden more than a simple "thank you" card. Each of these artists were catapulted to success by Toby McKeehan's own Gotee Records — the label he launched solely to promote Out of Eden's music. And if you enjoy hearing the hip-hop savvy pop of artists such as Stacie Orrico, Mary Mary and ZOEgirl on Christian radio, then get in the growing line of gratitude — Out of Eden paved the way.
 "I applaud these girls and respect the focus and courage it takes to do what they do every day — to be a black female group in the contemporary Christian music industry," says McKeehan (a.k.a. tobyMac). "They have been troopers, warriors and visionaries in a market that is not set up for them. They are underestimated and under-credited for being pioneers of urban pop music in the Christian music marketplace, and I think I can say that louder than anyone because I've walked with them from the beginning."
The three sisters, who comprise Out of Eden, are rare breeds, both personally and professionally. Though each is in her early to mid-20s, they are already industry veterans with a long career still ahead of them. While they each share characteristics such as kindheartedness, a friendly personality and clever wit, Lisa, Andrea and Danielle are definitely distinct.
The eldest of the three, Lisa is the musical leader of the group, responsible for penning most of Out of Eden's songs and often coming up with arrangements and involving herself in the production side of recording. Well-spoken and expressive, she is looked up to by her sisters but eagerly shares the spotlight with them. Andrea, the middle sister, is both thoughtful and insightful. The only married sister, she appears a source of quiet stability for Lisa and Danielle. And the youngest of the family, Danielle, with her tall, thin frame perfect for the stylish clothes she wears, has a huge drive for the ministry of Out of Eden.
Despite Out of Eden's unusual success – more than a million in career album sales (worldwide), 11 top 10 radio singles, numerous Dove Award nominations and tour dates with artists as diverse as Destiny's Child and Point of Grace – the trio has a history of perseverance in the face of dismissive stereotypes and industry passivity. Considering the girls' break into a market that didn't know what to do with female African-American R&B artists to obtaining mass commercial success, the industry honors lagged far behind. (Just this past year Out of Eden won its first Dove Award.).
"It's funny how you can start out with no expectations whatsoever, and then, as things begin to happen, you slowly find yourself thinking you deserve everything," Lisa says. "I think we would get a little frustrated at times because we'd see other artists come out with all kinds of success, while we were still struggling. We had to really go back to our roots and realize why we had decided to do this in the first place. When we first started, we just wanted to be used by God. We didn't care about anything else. But I think we had to go through that time of being prideful and having our 'pity parties' in order for God to remind us that the only reason we're doing this is because of our love for Him and our love for people."
"There was a time when I was just about ready to give it all up," Danielle adds. "In some ways, for me, we hadn't gotten certain things that others had gotten, and I felt I was sacrificing too much. I'd think, 'OK, God. Surely, You don't want me to suffer anymore.' But that's when we began to change our focus and change our hearts. We started pouring [our lives] into the lives of young girls here in Nashville and started getting really involved in ministries other than our own. All of a sudden God started to open our eyes and show us that we'd been focusing too much on the industry side of our career instead of the ministry. He showed us that He has so much more for us to do, and we're at the point where we want to say to Him, 'Whatever you need to do, do it in us.'"
First Things First
By the time the Kimmey sisters met McKeehan in 1992, his own group, dc talk, had begun to break down barriers in Christian radio with urban/hip-hop-flavored pop grooves. But no female artist or group had achieved anything similar. "The 'CCM' [contemporary Christian music] market thought we were too gospel, and the gospel market thought we were too 'CCM,'" says Lisa.
McKeehan and his then Gotee Bros. production partners – Todd Collins (producer of GRITS, KJ-52) and Joey Elwood (now president of Gotee Records) – thought differently. But the girls were just teenagers and weren't even sure they were really interested in a musical career.
"I was just 15 years old and attending public high school," Lisa remembers. "Joey would actually come and pick me up from school in the afternoons, and I'd go to Toby's house and work with the three of them in the basement. They exposed me to so much music. When my mom became a Christian, she threw away her albums by artists such as the Isley Brothers and Sly & the Family Stone, so I didn't grow up with any of that. Now, at 15, I was hearing Marvin Gaye and Stevie Wonder for the first time, and I just thought Toby, Joey and Todd were the coolest guys. They were giants to me, and we would all just hang out and sing. They were the ones who really began to believe in us."
The Gotee Bros. partners started going door to door with Out of Eden's music. When they discovered neither contemporary Christian nor gospel record labels knew how to respond to the trio, they were undeterred. They believed in Out of Eden so much, they formed Gotee Records simply as a launching pad for the girls' first album. It was a risky investment but one they felt compelled to make. "They stepped out on faith to start this label in order to get our music out there," Lisa recalls. "We weren't even old enough to really appreciate what was happening with that gesture."
It was 1994 when Out of Eden's debut album, "Lovin' the Day" (Gotee), introduced its urban pop to the Christian community with songs like "Come and Take My Hand" and the infectious cover of the classic Bill Withers hit "Lovely Day." "We've since applied the lessons we've learned," explains McKeehan. "And I think other labels and artists have (learned) — from the efforts of Out of Eden — how to be an African-American group making pop/R&B music for the gospel market, the Christian market and even the mainstream R&B market. I think they are a reference point for many conversations as people move forward in that genre.
"They've grown up, and I think they're feeling more of a privilege to be who they are called to be," he continues. "They've continued to push the limits and have felt the freedom to embrace their culture more and more with each record. And that's what 'bridge-builders' do. That's what people who make change in this industry do. They don't put up a wall and say, 'You're never going to like this.' They say, 'Let me build a bridge and invite these people into our world.'"
Unsung Heroes
Despite groundbreaking Christian radio airplay and successful album sales – its third release, "No Turning Back," sold more than 240,000 copies – Out of Eden went nine years without winning a single Dove Award. The Christian music industry's lack of attention was every bit as remarkable as the group's unpredictable popularity with fans. Out of Eden's next CD, 2002's "This Is Your Life," changed all that. The album garnered 2003 Dove Awards in two categories – "Urban Album of the Year" and "Urban Recorded Song of the Year" ("Meditate").
"I chose to never look at their previous nine years in the context of what they didn't receive as far as accolades," explains Gotee's Elwood. "I really tried to focus on what it is they achieved, in spite of a system that was not setup to readily accept what they do musically. They sold over a million records. In '94 no one would have believed that was possible. For 10 years we, as an industry, have gotten to enjoy the music they've created – a lot of which I know will stand the test of time. We have people working in our office today because of the effect "Lovin' the Day" had on them. Pro athletes, politicians, actors and actresses and pastors all call our office asking for boxes of their music. Working with Out of Eden taught us early that success comes in so many different forms: They sell their records quietly by industry standards, but their impact continues to be loud with consumers. The Doves were great, but how many artists can say they drove a record company into existence?"
On the Other Side
Those experiences brought a new perspective the trio had not considered before. Having come through the fires of doubt and uncertainty in their own careers and ministry, they felt they could support other young artists now experiencing the same challenges.
"When we started there weren't a lot of other younger artists," says Andrea, who is the most soft-spoken of the three. "But now we see so many really young ones coming into this industry and being thrown out there without having real discipleship and mentoring. They need to know to stay focused and humble and know that it's OK to keep their standards and stand up for what they believe."
"We want to be champions for change," Lisa says. "We want to tell young people, who are coming into this [industry], to just trust God. Don't be so concerned about what you can get. If this is what He's having you do, and you trust Him and lay down your life for Him, He'll put you where you need to be."
But Out of Eden hasn't just stopped at making friends with other young artists. The three members have thrown themselves into the ministry spotlight, partnering with World Vision (worldvision.org) to support child sponsorships and DATA (data.org) to champion the plight of HIV/AIDS and poverty victims in Africa, making appearances at Point of Grace's "Girls of Grace" teenage girl-focused conferences nationwide and developing Bible study curriculum for teenage girls with the youth organization Interlinc.
"We've seen so many people in the spotlight – singers of our day – say one thing and do the opposite," Andrea explains. "It seems that, as they get bigger and bigger, their standards get lower and lower. We just got tired of talking about our counterparts and decided to do something about it. It has become our vision to reach out to girls and show them there are other options."
Lisa adds, "We really want to champion these girls and say, 'You don't have to conform to the world's image of beauty. You don't have to be like this or act like this. Find out who God has called you to be.' We want them to know God has more for them than they can even imagine. God has a destiny and a purpose for their lives."
Lisa recounts a sobering story from a letter they received last year from a 15-year-old girl who had grown up in a Christian home but found herself in the middle of her third pregnancy. "Even though she grew up in church, she had never felt the love of God; and she was searching. When she heard a song called 'I'm the One' from our 'This Is Your Life' CD, she said that was when she really started to understand that God loves her regardless of her mistakes."
That story inspired a song ("I Know") on Out of Eden's newest CD, "Love, Peace and Happiness." As the album's title hints, it's what the girls like to refer to as their "party record." "The world is in such a state of uncertainty right now," Lisa offers. "Sometimes we're almost afraid to smile. But we have something to be thankful for; our happiness, joy and peace are not dictated by our circumstances. As Christians, we have a love, peace and happiness that never end, so we wanted to make a record that celebrates that. We wanted to rock the house with our music and record songs we love and can dance to."
Still retaining Out of Eden's signature R&B sounds, "Love, Peace and Happiness" surpasses its previous efforts with an energetic club feel that rivals any of the group's counterparts. It also happens to fit the unique touring event Out of Eden has planned for the spring. Inspired by the "Jump Off" post-Dove Awards party Out of Eden hosted for Gotee last year, the group is assembling its own version of a party to take on the road. The official "Jump Off" tour will feature Out of Eden and L.A. Symphony, along with a bevy of live DJs, break-dancers, freestyle rap contests and more.
"It's going to be a big traveling party," says Danielle, who was primarily responsible for the industry event last year. "We'll perform, but we're also going to just hang out, walk around and have fun with everybody. We're getting local youth pastors involved from both the suburbs and the inner cities, so we're really excited about how it's all going to come together."
"Right now, we just want to give people a breath of fresh air," Lisa says. "That's what this album and the tour are about. It's not about trying to escape reality; it's more about the fact that my reality is that I have the peace of God with me wherever I go. My reality is that God loves me, and His love never fails. My reality is that the joy of the Lord is my strength. We just want to be able to say that in everything we do."
Another major change for Out of Eden in 2003 was the new addition to the Kimmey fold. Andrea and her husband, Drew, welcomed the birth of their first child, Naia Joelle, in May. With Lisa and Danielle by her side in the delivery room, Andrea met her new daughter after 10 hours of labor. "She was a real trooper," Lisa recalls. "It was so painful to watch, but Andrea was her typical self and was so calm and collected."
"We were asleep in the room at one point," Danielle says, "and Andrea, right in the middle of her labor, is trying to be quiet so she doesn't wake us! Can you believe her?"
Lisa is quick to whip out her cell phone to show off a picture of baby Naia. The proud aunt programmed the photo into her phone so it pops up whenever Andrea calls. Lisa laughs about having passed the picture around to everyone at a booking agency meeting the day before.
While the ladies have had to make a few adjustments for travel and scheduling since Naia's arrival, they seem more than happy to do it. "My first job now is to be a mom and to make sure my daughter's taken care of," says Andrea. "It's neat to see my sisters as aunts and loving on her."
These three siblings have watched each other grow in faith, confidence, humility and, without a doubt, responsibility. Whether mentoring up-and-coming artists, teaching young ladies about integrity and modesty or helping to raise a child in their own family, the women of Out of Eden are leaders – leaders to whom the Christian music community and its fans are deeply indebted. Now about those "thank you" cards. …
Timeline:
1994 — First artist to sign with Gotee Records, group member Danielle is only 12 years old. Toured with dc talk; Debut, "Lovin' the Day," released.
1995 — Featured performers at the Gotee Block Party during Gospel Music Week.
1996 — Received first of 14 Dove Award Nominations for "Urban Recorded Song of the Year": "Good Thing" (from "Lovin' the Day"). "More Than You Know" released. Appeared on "Moesha" (The Mother's Day Special). First performance at Billy Graham Crusade.
1997 — "More Than You Know" and "Lovely Day" videos in regular rotation on BET.
1998 — "No Turning Back" Released. Lisa Kimmey records duet for Sonicflood's smash hit "I Could Sing of Your Love Forever." "Greater Love" featured in motion picture "Dr. Doolittle" starring Eddie Murphy.
1999 — Travels to Bosnia, Kosovo and Macedonia on a 10-day tour to perform for U.S. troops. Featured artist/co-host of BET's "Teen Summit." "River" spends 3 weeks at No. 1 on CCM's CHR airplay chart. "Window" also hits No. 1 on CCM's CHR airplay chart.
2000 — Hosted BET's "Lift Every Voice." Featured artist/co-host of BET's "Teen Summit" for the second time.
2001 — Brazil tour: performing in six cities in 10 days and singing to more than 750,000 people.
2002 — "This is Your Life" released. "Different Now" reaches No.1 on R&R's CHR airplay chart.
2003 — Nominated for Stellar Award. Won Dove Awards for "Urban Album of the Year" ("This is Your Life") and "Urban Recorded Song of the Year" ("Meditate"). Career album sales reach 1.5 million units (world wide). Group member Andrea becomes a mother.
2004 — "Love Peace and Happiness" releases. Scheduled to host BET's "Lift Every Voice" in February.

Photos by kwaku alston
© 2004 CCM Magazine.  All rights reserved.  Used with permission.  Click here to subscribe.