Honesty Is Key on Kevin Max's "Imposter" Solo CD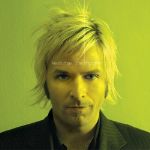 Artist: Kevin Max
Title:  "The Imposter"
Label:  Northern Records
Kevin Max's naturally lounge-y vocal style at times leaves him sounding a little less than sincere. But even though it's awfully tempting to imagine Max dressed in a loud leisure suit and playing a Las Vegas showroom, such foolish behavior is far from the top of his immediate to-do list. Instead, the key word for Max's latest solo CD, "The Imposter," is honesty. With this one, Max bares his soul and lays it all on the line.   
During the CD's R.E.M.-esque opener, "Confessional Booth," Max admits, "If the truth didn't hurt so much/ Then I wouldn't lie." And later in the track he further confesses, "If you were me/ You wouldn't sleep at night." These are not the words of someone intent upon giving off Hollywood cool. Rather, Max's songs find him struggling to remain genuine and transparent in his image-obsessed new Hollywood hometown. Clearly, this is no easy task.
Northern Records, his new label, is also home to hip underground Christian acts like The Violet Burning and The Lassie Foundation; and this album's sonic feel is lent instant alternative rock credibility by the studio presence of The Prayer Chain's Andy Prickett on guitar and fan-fave drummer Frank Lenz holding down the skins. When it rocks, as it most certainly does on the slightly robotic "Jumpstart Your Electric Heart!" this disc decisively demonstrates its hip SoCal zip code. 
The album also includes a cover of Bob Dylan's "When He Returns." Dylan, you may recall, made a few waves within the Christian music scene back in the day. Its lyric is a blunt reminder that none of us will lose our crippling imposter poses until Christ returns and sets up His kingdom. So until then, we would all do well to do what Max does here, which is take a brutally honest look at ourselves in the mirror.

© 2005 CCM Magazine.  All rights reserved.  Used with permission.   Click here to subscribe.