House of Heroes Has Some Fun in Suburba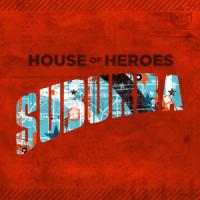 Artist: House of Heroes
Title: Suburba
Label: Gotee

While Suburba doesn't quite surpass last year's The End is Not the End in terms of sheer creativity, it's certainly the band's most fun album, hands down ...

When any band delivers a nearly flawless album that fans and critics both love to pieces, expectations can't help but run sky high for the inevitable follow-up.

And that wonder-what-they'll-come-up-with-next anticipation is exactly what Columbus, Ohio natives House of Heroes faced when they entered the studio after last year's breakout release, The End is Not the End.

But rather than simply replicate the formula that worked so well before, House of Heroes went a far gutsier route and decided to make a new statement altogether, a move that serves them particularly well on Suburba.

It's a shame that it's almost the end of the summer because Surburba is really the perfect soundtrack for those carefree warmer months. Although not lightweight by any means in the lyrical or musical department, there's an inherent playfulness that doesn't always come through in Christian music as the band unabashedly celebrates the joys of youth

Clocking in at a taut 46 minutes (well unless you pick up the version with the iTunes or Amazon exclusive track), Suburba is a fast-moving collection of pure ear candy, whether the guys are singing about the ups and downs of falling in love ("Love is for the Middle Class"), worshipping God with a decidedly Beach Boys' flair ("Salt in the Sea") or documenting the latest fight behind the school bleachers in standout track "God Save the Foolish Kings."

Paying musical homage to everyone from Tom Petty to Queen to The Beatles (yes, House of Heroes has trouble sticking to one decade, which makes listening even more fun), Suburba has plenty of style and a musically adventurous spirit, which is exactly what everyone's iPod needs at one juncture or another.

However, if a treatise on deeper theological issues is what you seek, Surburba probably won't be your musical poison. But if you'd like to see a different side of a band that's delivered consistently quality rock 'n' roll with a faith perspective, well, Suburba is definitely worth a listen.


**This review first published on August 31, 2010.