"House of Prayer" a Bold Exclamation for Buddy Miller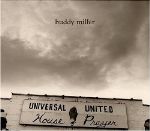 Artist:  Buddy Miller
Title:  "Universal United House of Prayer"
Label:  New West
Buddy Miller may be best known as a lead guitarist for hire (with Emmylou Harris, among others), a producer (Vigilantes of Love) and a songwriting/duet partner with his wife, Julie Miller, but as a performer, he's also one of country music's best-kept secrets, and "Universal United House of Prayer" adds another bold exclamation point to this statement.
As its title suggests, this album mainly focuses on spiritual themes.
A cover of The Louvin Brothers' "There's a Higher Power" may contain comfortingly faithful words, but when Miller sings Bob Dylan's "With God on Our Side" here, its lyric blatantly warns against the assumption that God chooses sides during international military conflicts. Miller may be steadfast in a prayerful mode here, but don't expect him to unite every believer via this passionate — and sometimes political — effort.
Politics aside, however, this album is never less than delightful on the ears. Musical colorings range from the rockabilly groove underpinning "Don't Wait" to the blues-rock of "Shelter Me." Miller wrote many of these songs with his wife, collaborated with Jim Lauderdale on a couple of others, and put together the old-time-y "This Old World" with Victoria Williams.
The album opens with one other cover, "Worry Too Much," written by the late Mark Heard, which features wonderful gospel-esque backing vocals by Regina and Ann McCrary. It also sets the tone for the rest of the album, where fear and faith seek out an uneasy balance. Miller gets it right, however, by mixing together hard questions with a large dose of rock solid truth.

© 2005 CCM Magazine.  All rights reserved.  Used with permission.  Click here to subscribe.