Humanitarian Efforts Inform Sara Groves' Latest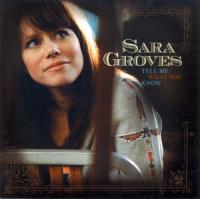 Artist: Sara Groves
Title: Tell Me What You Know
Label: INO
On her latest project, singer/songwriter Sara Groves serves up a compelling collection of songs that strikes the difficult balance between education, inspiration and entertainment. In the past few years, Groves has put her faith into action, helping Hurricane Katrina survivors and becoming involved in other humanitarian efforts.
On this compelling album, she shares the things she's learned. She reveals her hopes, her fears and her faith. But what could have become a heavy, hard-to-digest album of important-but-hardly palatable songs has instead become an engaging musical work that will resonate with a broad audience.
There's the lyrical depth fans have come to expect from Groves; yet she envelops her thoughtful, literate words in music that draws the listener immediately in. And of course, there's that sweet, strong voice that pierces the heart with honesty and conviction. Transparency is a term sometimes overused in the music industry, but it's safe to say Sara Groves embodies the word.
The album opens with "Song for My Sons," a heartfelt song every parent will instantly relate to. Yet, though it sums up what Groves wants to say to her sons, it also serves as a challenge for all believers to hold fast to faith and love in the dark times. "Say a Prayer" is a powerful song about intercession. The first verse was inspired by Elizabeth, a young girl Groves met in Washington, D.C., who was abducted and forced into prostitution before being rescued by representatives from International Justice Mission.
In the midst of addressing such heavy issues, Groves serves up hope, and that message is echoed in "Love Is Still a Worthy Cause," a buoyant song that reminds us all of the power of love. "Abstraction" and "The Long Defeat" are two other standout tracks on this powerful album.
Once again, Groves soaks up life's myriad experiences and pours them into compelling songs that both enlighten and entertain, and we are all richer for her efforts.




© 2007 CCM Magazine. All rights reserved. Used with permission. Click here to try a free issue.