All Sons & Daughters Rise in Worship
Ed Cardinal

Crosswalk.com Contributing Writer

2014

2 Jun

COMMENTS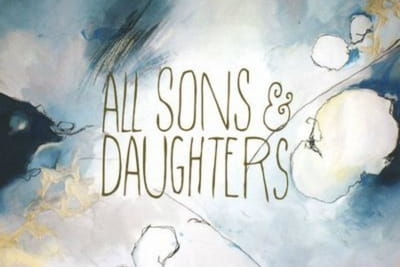 Artist: All Sons & Daughters
Title: All Sons & Daughters
Label: Integrity Music

A-list status isn't what a humble Americana praise and worship duo like All Sons & Daughters aspires to, but that label will stick with songs as strong as these. This self-titled set has already hit No. 1 on iTunes' Christian/Gospel Albums chart; Michael W. Smith just covered one of the new tracks here; and AS&D's guy and girl (David Leonard and Leslie Jordan) go on tour this fall with David Crowder. At what seems to be a tipping point, does All Sons & Daughters really stand apart? Yes, far more often than not.

David and Leslie lead worship at the same church and often write for the congregation. Their folksy voices—his quietly intense, hers youthful and breathy—blend in ways that bring to mind The Civil Wars on a bright day. Opener "You Will Remain" sounds like the sun rising with crisp acoustic guitar and gentle lap steel supporting a praise chorus about an unchanging God. Although it sings of resting in the Lord, "Tonight" is wide awake, a Mumford & Sons-resembling banjo foot stomper to spark celebration.

That's a welcome direction for All Sons & Daughters whose material is more often slow and better in small doses, perhaps one reason why there are several EPs in the pair's discography. Further along, this long player offers the noticeably upbeat "The Victory," a heady, holy pop song. "For Your Glory & My Good," cowritten with Derek Webb, plays around with a Latin rhythm and potent lyrics: I would be a fool if I could be made new / Come ruin, come ridicule / Recklessly I come, I run to You.

Gentler here than Smith's stirring cover on his new Sovereign project, "Christ Be All Around Me" is nonetheless All Sons & Daughters at its level best, constructing a simple yet bold worship song that already sounds like a classic; many churches will surely incorporate it into Sunday morning services. "Almighty God," a communion piece cowritten with Sandra McCracken, floats along as soft as a lullaby.

First recorded for the well-received All Sons & Daughters Live album, mid-tempo meditations "God With Us" and "Great Are You Lord" make their studio version debuts. The former marvels at Divine presence in us while the latter pours that presence out in particularly compelling harmonized praise. Leonard and Jordan have a remarkable musical gift together. Let their talent bless your times of worship.
*Published 6/2/2014