"I Am the Portuguese Blues" - Music Review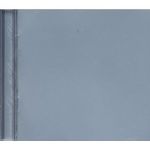 Artist: Starflyer 59
Label: Tooth & Nail
Certain decisions can completely alter the course of a band's career. For Starflyer 59, this happened in 1998 when front man Jason Martin decided to shelve what is now "I Am the Portuguese Blues." Instead, the band's follow-up album to "Americana" was "The Fashion Focus," which resulted as the first of four critically acclaimed Brit-pop offerings that changed the course of Starflyer 59's sonic transformation forever.
To some, "I Am the Portuguese Blues" will signal a return to the old Starflyer guitar-driven albums such as "Americana." But, in other ways, the album echoes the more aggressive tracks of the band's recent offering, "Old," with the notable absence of keyboards.
Still, in either case, Starflyer manages to break new ground by rocking out more than it ever has before (think the raw, pounding feel of the Black Rebel Motorcycle Club) with in-your-face bluesy guitar licks and solos.
All 10 songs have an upbeat groove and clock in at fewer than three minutes long, with the exception of "No Revolution," the album's only ballad. Among the highlights are "Unlucky," with its country honky-tonk feel, and the instrumental blues jam of "Sound to Sound."
All things considered, old-school Starflyer fans may find the band's 12th release to be a breath of fresh air, but newer fans of the band may not acclimate as quickly.
Nevertheless, in the grand scheme of things, while "I Am The Portuguese Blues," ultimately, has a hard line to tow to compared with the more recent Starflyer efforts, it effectively serves as an interlude before the band's next production, which it hopes to release later this year.
Get Starflyer 59 music videos at Godtube.com.

© 2004 CCM Magazine. All rights reserved. Used with permission. Click here to subscribe.