Baptized Treads New Waters
Glenn McCarty

Crosswalk.com Contributing Writer

2013

26 Nov

COMMENTS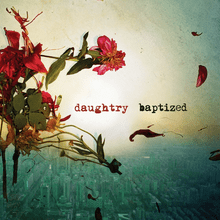 Artist: Daughtry
Album: Baptized
Label: 19 Recordings
American Idol star (will he ever outrun that introduction?) and Southern rocker Chris Daughtry turns a page of sorts in his career with his band's release of Baptized this month. This fourth chapter finds Daughtry undergoing a brand transformation of sorts, a process that is evident from the opening notes of the album. Whereas 2011's Break the Spell burst out of the gates with the crunching blast of electric guitar on "Renegade," this album opener "Baptized" shuffles into position with a more Rascall Flatts-ish acoustic guitar over percussion loop, and plenty of echo on Daughtry's vocals, before sliding into a big, anthemic chorus.
It's an appropriate beginning to an album that consistently runs counter to the audience's presumed expectations of Daughtry as fiery rockers blowing the lid off stadiums with plenty of electric snarl. Baptized finds Daughtry the singer consistently getting his Don Henley on, using his stellar, raspy pipes for all sorts of emotive, pop goodness. So much so that by the time the song "Long Live Rock & Roll" comes around midway through, with its listing of rock icons and a chorus that proclaims, "Long live big guitars/and music for the soul/Sayin' don't give up/don't grow old," the contrast between then and now is more than a little obvious.
All of that isn't meant as a criticism, some sort of "gone soft" accusation; Daughtry, his band, and the co-writers, including Boys Like Girls frontman Martin Johnson, have rounded up a collection of compelling tunes, mostly about love and relationships, that strikes a nice balance of tones throughout. Call it country-tinged pop with a hard edge. Highlights include "Waiting for Superman" and "Battleships," as well as the piano ballad "Broken Arrows."
Not surprisingly, the album sounds fantastic. This is the best sound engineering money can buy, and everything is mixed down to a golden shine. In making this calculated tip-toe outside expectations, Daughtry isn't the first to tread into new waters after nearly a decade in the biz. It remains to be seen whether this move toward nuance confuses fans hoping for more of what they had been used to, or broadens the band's reach and contributes to its staying power.
*This Article Published 11/26/2013