City Harbor Peppy but Unpolished
Ed Cardinal

Crosswalk.com Contributing Writer

2014

18 Feb

COMMENTS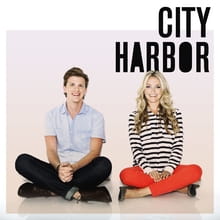 Artist: City Harbor
Title: City Harbor
Label: Sparrow Records

An upside down glance at the two people shown on City Harbor's self-titled debut album cover suggests actors Andy Samberg and Kate Hudson have formed a musical partnership. In fact that photogenic duo is Robby Earle and Molly Reed, established singers and songwriters who have already toured together with Francesca Battistelli and Amy Grant, giving us a general idea of the commercially safe City Harbor sound. One of Reed's tunes was also recorded by NBC's The Voice winner Danielle Bradbery, so there's a buzz.

Are those early inside connections enough to launch City Harbor into the Christian music mainstream? There's no doubt these ten radio-ready songs have melodic charm and the fun factor of nonstop guy/girl harmonies. But it may take time to figure out whether this group's middle of the road approach is delightfully understated for these overproduced times or altogether vanilla. It can be such a fine line.

On one hand, the sonic cleanliness of hummable cuts "Like I Am" and "Come However You Are" is as appealing as recent simple hits by Britt Nicole ("All This Time") and John Mayer ("Who You Love").Every note sounds crisp, quaint, and ready for some TV ad or another. "I Still Believe" is friendly folk vaguely similar to but lacking the grit of The Lumineers and The Civil Wars—catchy, not crowd-stopping.

Then there are tracks that come across as barely modernized faith-based hits of the late 1990s. A peppy cheerleader quality permeates the poppy "Lift It Up" while ramped up intensity drives piano ballad "Somebody Tell Them"; neither would seem out of place alongside Avalon and Steven Curtis Chapman selections on WOW Hits 2000. Decent hooks, good message, but it just feels too early for Y2K nostalgia.

More to its credit, City Harbor brings a timeless theme to each song. Reed said, "Come to God and receive His peace, love, grace and rest. That's the heartbeat of our message . . . God is always there." Sure enough, the lyrics always lead the listener to the Lord and do it best on "Heartbeat," a cool electric guitar-led standout where Molly and Robby sing: I'm better off walking with You than walking away.

Don't be quick to walk away from City Harbor. The duo's polished pop sound may be an acquired taste, but many Christian music fans will surely find it satisfying.
*Published 2/19/2014