Killers & Thieves Not as Imposing as it Seems
Ed Cardinal

Crosswalk.com Contributing Writer

2014

21 Mar

COMMENTS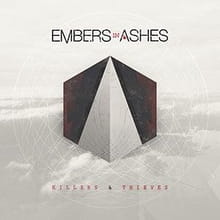 Artist: Embers in Ashes
Title: Killers & Thieves
Label: Embers in Ashes

"We're killers. We're thieves. We've got nothing You need," sings Embers in Ashes front man Jeremy Bates on the title track from his impressive band's second full-length album, Killers & Thieves. That gut-level honesty in talking with God consistently matches the intense post-metal progressive rock that he and his mates die-cast into the listener's consciousness throughout this taut thirty-three minute set. In general terms of the genre, these guys really are on fire.

Indeed, opener "Set Fire" builds on deconstruction. "Set fire to this house. Burn it to the ground. Break me down. Make me new," Bates pleads over a clanging bass, machine gun guitar, and incessant kick drum. On first single "Into My Arms," the topic shifts from a faithful heavenly father to a troubled earthly one, addressing abandonment issues that resonate with two Embers in Ashes members. The song's rising melody and surprise dance elements show a band adding texture to its torrential template.

While every cut has a hard rock influence and airtight, Rush-meets-Metallica mechanics, the vocals often provide the free-to-roam display of emotion needed to escape head-banging clichés. "Guide Me Home" and "The Mirror" are good examples—suggesting influences from Incubus to Kutless. "2000 Miles" is an exemplary combination of fist pumping and heart skipping; a spacious, yearning love song with a how-do-they-do-that musical breakdown that showcases remarkable, jazz-level synergy among the players.

To that point, Killers & Thieves also features a killer instrumental called "Stones" that has more to offer through its creative chord changes than a lot of word-filled tunes that make it to radio these days; how cool to just sit back and get lost in a wandering, soulfully hard-edged jam.

And that sort of interlude is needed given the wrestling spirit of Embers in Ashes' hardcore message. "Night and Day" vividly prays, "Keep me from being buried in this self-made grave," while "What Matters" longs to "wake up and see life as it is, a momentary breath . . . reshape my mind." Such sincere thoughts and passionate playing make Killers & Thieves a rock record worth stealing time to hear.
*Published 3/21/2014