Mercy Sounds Fine From Here
Susan Ellingburg

Crosswalk.com Contributing Writer

2013

28 May

COMMENTS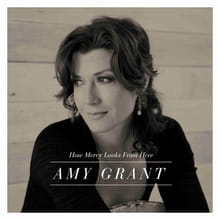 Artist: Amy Grant
Title: How Mercy Looks From Here
Label: Sparrow Records
Amy Grant said "the best part of waiting ten years to release a record of all new songs is the amount of life lived between projects—so much to write about." Judging from How Mercy Looks From Here, the result of that hiatus, she has lived with hope, grace, and the kind of faith that withstands any storm.
The CD feels at once new and familiar: Familiar in the sincerity of the songs and Grant's iconic soulful sound; new with the addition of voices more often heard on secular stations. Case in point: the first single "Don't Try So Hard" offers a can't-miss combo of affirming lyrics and vocal backup provided by James Taylor. Taylor's calm, comforting voice is a perfect match for Grant's husky tones and the song's message of grace is the sort of thing that only gets better with repeated listens. Other guests include Grant's dream team lineup of Carole King, Sheryl Crow, Eric Pasley, and (not surprisingly) Grant's husband Vince Gill.
While "Golden" is oddly reminiscent of Steely Dan's "Do It Again" (with more uplifting lyrics), the rest of the CD is classic Amy Grant. Some songs are prayers ("Greet the Day") while others tell stories, like the heart-wrenching "Shovel in Hand" and the title track. Most involve a matter of perspective; all are marked by Grant's clear-eyed honesty and a maturity that only comes with living through years of joys and sorrows. Before Grant's mother died she told her daughter to sing about "things that matter" and this collection proves Grant took that injunction to heart.
A line from "Our Time is Now" says, "I want to sing before my time runs out." It's a good thing for us that Grant took her own advice. Hopefully we won't have to wait another ten years before she decides to sing for us again.
*This Review First Published 5/28/2013