Our God Comes as a Treat for Modern Worship Enthusiasts
Ed Cardinal

Crosswalk.com Contributing Writer

2013

25 Nov

COMMENTS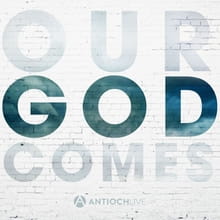 Artist: Antioch Live
Title: Our God Comes
Label: Clear Day Worship

Antioch Live is the music ministry of Antioch Community Church in Waco, Texas, described as "a people passionate for Jesus and His purposes in the earth." Our God Comes is "a part of the soundtrack of our journey" and a duly sincere live praise and worship recording—generous with fourteen songs and more than seventy minutes of music that often rocks and even soars, though never too far from the middle of the modern church road.

With new wave keyboard and an insistent beat, Antioch youth pastor James Mark Gully's leadoff track "Come" suggests this album will sound like fellow Waco act David Crowder*Band. But it turns out to be more of a one-time crowd starter. Both "God and King" (sung by Scott Gully) and "Wonderful Counselor" better represent the church team's beefier sound. The former's wide open riffs help a praise anthem instantly ring true, and the slow-burning latter's shoegazer guitar and atmospheric piano carry an especially gripping lyric about God's peace.

"God Who Saves" features the pleasing lead vocals of Clare Berlinsky and was written to encourage persecuted Christians around the world; churches looking for music to perform on Missions Sunday may find inspiration here. If Michael W. Smith ever records another live worship album, "How Much More" sounds like the sort of piece that would catch his ear. With a poetic lilt, the gentle piano praise meditation centers on the intimacy of God's suffering for us: Tear for tear, groan for groan / All my pain You have known.

Adding to the length of Our God Comes, several key selections include separately titled instrumental codas to create eight-minute-plus deep worship experiences. "I Will Raise" quietly celebrates Jesus before erupting into rapturous alternative rock worship and segueing into the wordless "Response". With hammered dulcimer over a pop arrangement and clear inspiration from the Psalms, "One Hundred Three" transforms into the vast "Return". Singer and songwriter Johanna Six appears on "Savior Forever" / "Selah", a notably cinematic expression of praise.

If a qualm should be mentioned, it's only that there may be too much music to ingest here from a relatively unknown musical entity. A couple of weaker numbers or extended jams could have been trimmed to make the standout riches of Our God Comes less hard to find. Whatever the case, there's enough talent here to keep modern worship enthusiasts coming back for even more.
*This Article First Published 11/25/2013