Royal Tailor Builds Steam
Ed Cardinal

Crosswalk.com Contributing Writer

2013

27 Nov

COMMENTS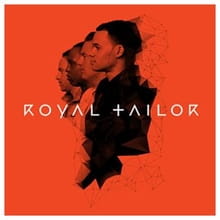 Artist: Royal Tailor
Title: Royal Tailor
Label: Essential Records

Four-man pop/rock/soul band Royal Tailor is off to a fantastic start: a Grammy Award nomination for its first album Black & White, tours with Casting Crowns and on the multi-artist Winter Jam juggernaut, and major props from obvious creative influence tobyMac on this self-titled sophomore release. Anyone underwhelmed by the often oversexed content of Bruno Mars, Justin Timberlake, and Maroon 5 will be delighted to find similarly fun and exciting musicality here but with a far safer core message throughout.

Mixing rap and some banging piano with rock edges and lead singer Tauren Wells' strong R&B vocals, "Got that Fire" burns away any concerns that Royal Tailor is a wannabe act; the hooks and talent are level with today's Top 40 in this song about the passion for life and God alike. "Jesus Love" is even more outspoken and immediate, a fine and funky dance tune made better by tobyMac, who rips open a distorted rhyme harkening back to his excellent 2001 debut, Momentum.

By the time we get to "Original"—simultaneously celebrating one's identity in Christ and tapping into '80s era Prince and Michael Jackson inspirations—it's clear that Royal Tailor is one of the best things happening today in faith-driven pop. With its mind on missions, "Ready Set Go" brings all stylistic references up to the minute with a dubstep-heavy guest appearance from Capital Kings. And those who enjoy Katy Perry's "Unconditional" will appreciate the commitment theme in similarly paced "Remain".

As young and good looking as these guys are, it's no wonder Royal Tailor comes with a handful of gentler acoustic-pop numbers that keep the group squarely in the youth market. "You Are My Rescue" carries the best melody of the whole set and plays like a love song to God. Then there's "Love Song" which veers a little too far into the early One Direction lane. The project is not without a little filler.

Perhaps closing bonus track "Fight for Freedom (Let the Walls Fall)" hints at what Royal Tailor will become, a band that remains ever catchy while stretching into more elaborate musical arrangements and making bold statements: Every wall that separates us has got to come down / judgment and hatred, religion and politics, preferences and prejudice / These walls are coming down. To mention tobyMac one last time, the whole thing is starting to seem reminiscent of his group dc Talk's creative path.
*This Article Published 11/27/2013