Running to Follow Worth Chasing
Ed Cardinal

Crosswalk.com Contributing Writer

2014

21 Apr

COMMENTS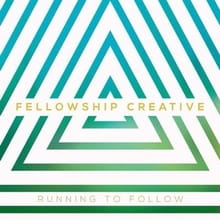 Artist: Fellowship Creative
Title: Running to Follow
Label: Fair Trade

Fellowship Creative is a worship team of guys and girls from the mega Fellowship Church in Grapevine, Texas, a congregation led by media savvy preacher Ed Young, Jr. And while that guy may be known for curious tactics, such as publicly staging a 24-hour bed-in with his wife at the church to promote his Sexperiment book and sermon series, there's nothing nearly as cheesy about this related collective's Running to Follow album. It is 55 minutes of decent original modern music seemingly free of gimmickry.

A web site says Fellowship Creative exists in part for artists to build relationships and develop resources to build the local church. Indeed, these thirteen songs do build up a listener's spiritual enthusiasm although the mix of styles makes for a consistency challenge. "Glory in the Highest" is playful Christian rock like something from Audio Adrenaline's peak period. The title track is New Wave supercharged fun, intentionally dated unlike the generic but still enthusiastic "Never Be Without It."

Genres overlap in the heavenward "Future Back," a hybrid of piano pop, rap, and yelping indie rock—better than it sounds. "Magnify" is urgently played, riff-heavy rock made for a big stage, theatrical modern praise that best fits Fellowship Creative's definition of itself.

Following that up front burst of energy Running to Follow slows down for a nice moment of reflection. "Jesus My King" is a breathy, somnambulant meditation right out of the Elliott Smith playbook accented by bells and xylophone. Larger in scope, "Desperate for You" builds from its ethereal roots into an all-out anthem others will want to sing: Standing at the end of all of me / Jesus I am desperate for You.

The alternative sensibilities return on the soul welcoming "Home," another arena-ready concoction with rock-and-roll backbone and spacey keyboard twists comparable to The Killers. "Always Been about You" is a jaunty, hand-clapping pop sing-along standout, a cut that might top the faith-based charts were it attached to an identifiable recording artist rather than the relatively faceless Fellowship Creative.

Of course, these worshippers aren't concerned about hits and headlines, leading us to the best thing about Running to Follow; despite the occasional genre jolt, the message of centering on Jesus is always on point. Set closer "Beautiful" sees: How high Your glory goes / how deep Your purpose flows / how true and never-ending is Your love. That makes for music worth following.
*Published 4/21/2014