Ian Eskelin's "Save the Humans" Delivers Perfect Balance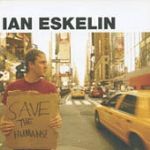 Artist:    Ian Eskelin
Label:   Inpop Records
In the spirit of Charles Lindbergh and Amelia Earhart, All Star United front man Ian Eskelin takes flight solo-style with his new release, "Save the Humans." Eskelin, who started out with Superchic[k]'s Max Hsu in the duo Zero before Eskelin's first solo stint 10 years ago, tackles his new freedom with a clear mission to rule the airwaves. The 10-song disc, which he co-produced with the Wizardz of Oz (Avril Lavigne), pops out potential radio hit after radio hit without apology; and, thanks to some well-crafted songwriting, there's never a need to change the station.
The album opener, "Shout," starts with simple vocals and acoustic guitars; but then the chorus quickly kicks in with a rocked-out praise anthem that repeats often. "Magnify" also starts out on a mellower note; and, while the guitars remain subdued, the chorus hits with a flood of background vocals.
Lyrically, this song offers a picture-perfect example of progressive praise and could be used as a staple for most any worship service. "The Solid Rock" features similarly uplifting lyrics, but this track busts loose from the starting gate with catchy guitars and energized dynamics.
While the praise-driven songs lead the disc, "Save the Humans" soon morphs into straight-forward rockers like "Throw It Away" and the title track — both high-energy standouts. Another such up-tempo song, "Taboo," offers an ironic look at faith in the public square and starts with the idea of Jerry Springer as President (The pre-TV Springer was once the mayor of Cincinnati and a gubernatorial candidate in Ohio.). Tele-politics aside, "Taboo" makes excellent use of tempo changes, slick rhythms and an over-the-top pop chorus. Though equally accessible, the album takes quieter turns with such smooth songs as "I Love to Tell the Story" and "Into Your Arms Again."
While Eskelin's new songs will, obviously, be compared to the All Star United catalog, the singer's new solo disc competes as an alt-pop rocker ready for radio. "Save the Humans" delivers a perfect balance of energy tempos, lyrical slants and emotional levels. Eskelin is clearly ready for takeoff; but, unlike Amelia Earhart, this solo flyer won't be disappearing anytime soon.

© 2004 CCM Magazine.  All rights reserved.  Used with permission.  Click here to subscribe.