"Illuminate" - Music Review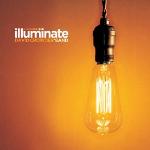 Artist:    David Crowder Band
Label:   Sixsteprecords/Sparrow Records
Perhaps the first characteristic listeners will notice on "Illuminate" is how vulnerable David Crowder's voice sounds. His is not a big, bold instrument of authority, like that of so many other contemporary worship leaders. Instead, he comes off sounding more reverent.
Musically speaking, this release falls in the primarily acoustic modern-rock vein with electric guitar and keyboard adding colorful touches. While the album features Crowder's unique compositions, there are also some familiar tunes. Highlights include the slightly tripped-out version of the hymn "Heaven Came Down," which rides over blipping keyboard and stuttering percussion, and "All Creatures #2" (a renamed "All Creatures of Our God and King") with a catchy, modern soundtrack.
Some of his songs bring Delirious' work to mind, which is best demonstrated by the breathy vocal and chirpy keyboard work of "Revolutionary Love." But ultimately it's the diversity of songs and creativity in arrangements that set Illuminate apart as a shining example of modern praise & worship.

© 2003 CCM Magazine.  All rights reserved.  Used with permission.  Click here to subscribe.