"Imagination" Makes Bethany Dillon's Musical Calling Clear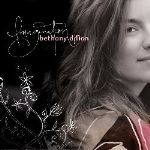 Artist: Bethany Dillon
Title: "Imagination"
Label: Sparrow

People often say that teenagers have wild imaginations. Whether or not that's true, teen singer Bethany Dillon's "Imagination" certainly knows how to create a wild response.
In 2004, Dillon's self-titled bow became Christian music's best-selling solo debut of the year, so there's no wonder fans are clamoring for her heavily hyped follow-up, "Imagination." Is the anticipation justified? For the most part, yes. The Ed Cash-produced disc dabbles in praise and pop, but overall, "Imagination" pays tribute to a female singer/songwriter legacy that foregoes predictable conventions. For example, Dillon doesn't overpower the tracks with her vocals but prefers to let the music drive the song. While not a traditional formula for Top 40, it does lend itself to a career aimed at surviving the next excruciating "Total Request Live" craze.
The track most familiar to Christian radio fans, "All That I Can Do," blends pepped-up acoustic and electric guitars with an understated drumbeat for a perfectly balanced dynamic. Lyrically, the singer tackles trust and reliance issues with a vocal delivery that's spirited and sharp. "In an Airplane" takes flight with a smooth flow of percussion and piano keys alongside vocals that poetically paint a divine picture from a window seat's view. Likewise, the worshipful "Hallelujah" stands out by capturing a more youthful tone and fresh arrangement.
Though her upbeat songs shine brightest, Dillon isn't afraid to slow the pace. "I Believe In You" might not work a Zao fan into a frenzy, but its explosive chorus conveys the feeling that Dillon believes what she sings. Her vocals are passionate and emotive, but at the same time, she doesn't sound like she's begging for an Oscar. Offering a more low-key approach, "Be Near Me" works because the gorgeous vocals and background music are filled with subtle hooks. The title track and "My Love Hasn't Grown Cold" also take a more subdued route, but they both fall short by moving slow for so long that the average listener feels like hitting the horn.
Dillon, who's barely old enough to drive, already claims two full-length albums and an EP. Born of a music-oriented family from a small town in Ohio, she's clearly found her calling on "Imagination" and shows that not all female teens need an army of choreographed dancers to succeed. Dillon, who writes or co-writes all her songs, breaks through on talent alone.

© 2005 CCM Magazine. All rights reserved. Used with permission. Click here to subscribe.

Watch the latest Bethany Dillion music videos on her official Godtube.com artist page!