Nostalgia Rules In a World Like This
Ed Cardinal

Crosswalk.com Contributing Writer

2013

21 Aug

COMMENTS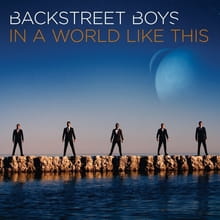 Artist: Backstreet Boys
Title: In a World Like This
Label: K-BAHN/BMG

In recent apocalyptic comedy This Is the End, the film's final punch line is a Backstreet Boys performance of "Everybody (Backstreet's Back)" that takes place in Heaven—the result of one goofball character's test to see if all wishes really do come true in the afterlife. Perhaps it was prophetic seeing that Backstreet is indeed back in 2013 and celebrating twenty years together with In a World Like This, its first album since 2005 to feature all five original members. Yes, it's a wish come true for many fans, but do these songs create a heavenly listening experience?

There are different ways to approach that question. On one hand, proven singers Brian Littrell, AJ McLean, Nick Carter, Howie Dorough, and prodigal Kevin Richardson—the best-selling boy band in history—have a big event to honor: two decades in business and a full-on reunion. To that end, In a World Like This respects the pop past as the "boys" partner again with the likes of Swedish producer Max Martin ("Quit Playing Games with My Heart," "I Want It That Way"), giving folks what they want on the harmonious title track and ultra-danceable "Permanent Stain."

Nostalgia seekers can also pretend late 1990s production sensibilities and innocuous lyrics (You've got to stand for something even if you stand alone) still rule the charts on "Show 'Em (What You're Made Of)" and the euro-pop flavored "Make Believe." They will further enjoy rhythmic rocker "Feels Like Home," a fun reminder that Backstreet Boys know all about world domination, having thrilled crowds in Rio, Monaco, LA, Tokyo, but it all just feels like home.

On the other hand, cultural relevance is a concern. Liner notes for In a World Like This are flush with here's to the next twenty years sentiments, but if the music should continue then more artistic chances need to be taken than those presented here. Bluesy, funky acoustic numbers "Try" and "Trust Me" are silky smooth, and it's nice to hear each member's voice holding up so well. "One Phone Call" is another vocal standout with just a hint of Motown running throughout. Since it's about the natural instrument with Backstreet Boys, more creative song selection—interpretations of unheralded classics, maybe—might add needed freshness.

As for content, subject matter stays family-friendly—Littrell's an outspoken Christian—save for a mild expletive, drinking party reference, and a line about making sweet sexy babies. Slow it down there, boys.
*This Review First Published 8/21/2013