"In the Company II" a Sometimes Bland Step Back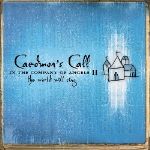 Artist:  Caedmon's Call
Title:  "In the Company of Angels II:  The World Will Sing"
Label:  Essential
A quick glance at Caedmon's Call's discography reveals two distinctive stylistic directions over the band's almost 10-year career. After the success of the band's self-titled debut and sophomore disc, "40 Acres," college kids (and their parents alike) couldn't get enough of the group's homegrown, acoustic-based sound.
It's a prototype that Caedmon's could've probably stuck to without many complaints, yet Cliff Young and his cohorts weren't satisfied with merely staying the same. And the results of taking chances certainly paid off as 2000's "Long Line of Leavers" and 2004's "Share the Well" were nothing short of exquisite.
Now, as the follow-up release to "Share the Well"'s adventurous foray into world music that was inspired by the band's life-changing trip to India, "In the Company of Angels II:  The World Will Sing" feels like a step back in a more conventional direction — one that's rather bland at times.
And while there's certainly plenty to love about a congregational-friendly project that doesn't feature covers of the tried-and-true praise songs, there are few standout moments that separate Angels from anything already available in the worship music realm.
Things get off to a promising start, however, with the mid-tempo "Great and Mighty," a song with catchy guitar riffs and verses easy enough for a church audience to pick up in no time. Unfortunately, the next few songs don't fare as well with little to distinguish them from each other, even when Cliff and Danielle Young trade off lead singing duties.
But a welcome change of pace comes six songs in with "The Fountain," a confessional track any believer can relate to as it expresses the need to go to God in times of uncertainty and doubt and for repentance. While that's a pretty basic sentiment of the Christian faith, there's something so rich and heartfelt about the way it's conveyed here. Ditto for "Be Merciful to Me" with Danielle's unique vocal sound and simple piano accompaniment that let the simple message of the song shine through.
Ultimately, when compared with the first "In the Company of Angels" disc, the sequel quite possibly outshines the original. But once somebody's heard what Caedmon's is capable of when it ventures beyond the typical worship fare, it's difficult not to be a little disappointed when the band doesn't. 


© 2006 CCM Magazine.  All rights reserved.  Used with permission.   Click here to subscribe.