Innocence Mission's Song Another Quiet Triumph
Beau Black

CCM Magazine

2007

18 Jun

COMMENTS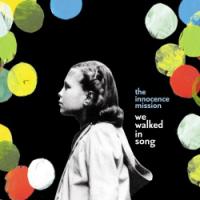 Artist: The Innocence Mission
Title: We Walked in Song
Label: Badman
Upon Emily Dickinson's death, hundreds of poems written on slips of paper were found hidden throughout her room.
Imagine this veteran Pennsylvania folk-pop act as the musical equivalent of such a discovery. The Innocence Mission's music, like those little poems, seems slight at first, but its beauty demands notice. (After all, it didn't escape the notice of Sixpence None the Richer who repeatedly cited The Innocence Mission as its biggest influence.)
After 1995's Glow (A&M), the band shed its drummer to become a three-piece, and its sound has grown mellower and more spare since. Songwriter, vocalist and pianist Karen Peris has always written in the vocabulary of childhood, here exploring the still-fresh loss of her parents through vintage images of days in the park and birthday parties.
In the album-topping "Lake Shore Drive," Peris' hushed chirp explains, "I tell myself now/Things I would have told to you/The smallest plan, the greatest news." Lines like "Regret has gone down in my estimation now" hover over husband Don's liquid, ringing guitar tones and a dusty beat. Grief has never been so prettily sung.
Though one wishes the band would crank it up a bit, à la Glow, on occasion, that's not what they're about anymore. This isn't for everyone—it's not obvious or delivered in religious lingo. But those willing to dig will find a treasure here.

© 2007 CCM Magazine. All rights reserved. Used with permission. Click here to try a free issue.