"Into the Unknown" Shows Promise for Anadara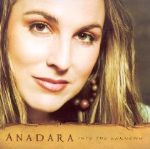 Artist:  Anadara
Title:  "Into the Unknown"
Label:  Spring Hill Music
Sometimes the best lessons about faith in the Bible come at the expense of the scapegoat. We learn about having strong faith by reading how Peter failed to have faith, denying his association with Jesus repeatedly.
Another great example of this is the disciple commonly referred to as "Doubting Thomas." When it was announced to the disciples that Jesus had been resurrected, most of them weren't sure what to believe. Despite a general sense of uncertainty, Thomas stood out from the rest, by demanding further evidence, despite being in the presence of Jesus. His failure to believe taught us that we are blessed when we trust in things that we cannot physically experience.
Young worship leader and singer songwriter Anadara offers her debut solo release on Spring Hill Worship, continuing the label's productive release schedule. Having appeared on several of the label's compilation projects, "Into the Unknown" allows Anadara to spread her wings a bit and explore the themes with a bit more depth. The album focuses primarily on the process of growing and walking in a faith that can shape your life and draw you closer to God. As a visible sign of this faith, the album also includes some straightforward worship songs.
Steeped in the tradition of folk music and heavily influenced by her mother's career in music, it's no surprise that Anadara's sound reflects these experiences with a few tweaks to make it slightly more up to date. The opening track, "Go" offers listeners a nice dose of pop-laced rhythms complementing the acoustic backbone nicely, making for an ideal radio single. The remainder of the album remains true to that style, splitting time between mid-tempo radio-friendly tracks and worshipful ballads. Vocally reminiscent of the likes of Nicole Nordeman and Christy Nockels, Anadara proves to be a rather comfortable listen.
While perhaps not as lyrically creative or musically diverse as some of her contemporaries, Anadara provides a nice debut album on which to build a career. She's proven her talent as a singer and has crafted a satisfactory collection of hopeful and enjoyable songs for fans of progressive worship to soak up. "Into the Unknown" shows that Anadara has some promise as a rising voice in the singer-songwriter arena.


© 2006 CMCentral.com.  All rights reserved.  Used with permission. 

Visit CMCentral.com now and join the single largest online community of Christian music fans on the internet.  CMCentral features  daily music news, exclusive interviews, album reviews, weekly devotions and feature articles written by some of your favorite Christian artists, and much more.  CMCentral is also the home of the most popular Forum for Christian music fans that you'll find anywhere on the Internet.  Come see what all the buzz is about!