Introducing the City Harmonic a Welcome, Noteworthy Debut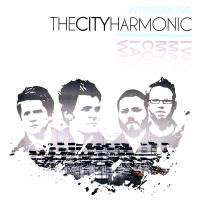 Artist: The City Harmonic
Title: Introducing the City Harmonic
Label: Kingsway
Hailing from Canada, Elias Dummer (lead vocals/keys), Josh Vanderlaan (drums), Eric Fusilier (vocals/bass), and Aaron Powell (vocals/guitar) have arrived on the Christian music scene this fall with their six-song debut EP, Introducing the City Harmonic.

Despite the obvious stylistic influence of mainstream bands from Coldplay to U2, there is nothing about these guys that seems contrived or forced in their efforts to "share the moment" with listeners. The lead vocalist explains that their hope is to "engage" the listener in a worship experience that "blurs the lines between the audience and performer." What does this mean? All you have to do is tune into a song like "Manifesto." It begins with an inviting piano riff and builds up to an anthemic, multi-voiced proclamation of belief in the "one true God." Before I knew it, I was singing with them.
Musically, The City Harmonic is a rock band that shows both the ability to unfurl their musical "sails" yet still maintain elements of control with many a waxing and waning verse and chorus (such as the songs "Manifesto" and "I Am"). From strings and electric guitar, to an organ, to handclaps and swelling vocals—the product is a collage of instruments and sounds that come together passionately and skillfully. In fact, while this album is pleasing to the ear, there is a uniquely raw and imperfect element to the vocals and musical composition that makes their music approachable. Lyrically, it is the same story.
What I love about their message is that it reflects many aspects of God and our response to him as worshippers. The first track, "I Wonder," explores the constancy of God's love and trying to wrap our minds around it as humans. The song, "My God," deals with brokenness and choosing trust in response to the character of God and "I Am" speaks candidly to the sinful condition of man in contrast with God's grace.
Perhaps the best way to describe their music is that it conveys a "hopeful tension"—a component that Dummer says should be a part of every Christian's real life. They do this well by contrasting human experience with the unwavering desire of God to be in relationship with his creation. Though pensive at times, this expressive mix has a collective worshipful attitude with a healthy dose of humility. Overall, The City Harmonic's six-song introduction proves a noteworthy project and may leave listeners with the hope of more to come.

You can watch The City Harmonic music videos at Godtube.com.
**This review first published on December 14, 2010.