J Moss: Rise & Shine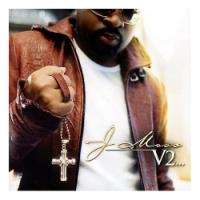 When it came to pursuing music, Detroit-native J Moss is quick to admit he "didn't have a choice in the matter." Not that he minds his day job, of course.
Joking that his career path was a "pre-arranged affair," Moss' artistic tendencies aren't all that surprising given his rich musical pedigree. Moss' father, Bill, was part of popular gospel group Bill Moss and the Celestials, while his cousin Karen Clark-Sheard was part of the famed Clark Sisters. (Continuing in the family business, Karen's daughter Kierra "KiKi" Sheard is also an Urban/R&B artist whose latest album, This Is Me (EMI Gospel), earned rave reviews last year.)
"From a young age, my dad was always steering me in the right direction in terms of performing," Moss says. "And once I came of age—and sound mind, if you will—Mom was able to direct me spiritually. Thus, the story of J Moss."
And while his name may not instantly ring a bell for pop and rock music fans, the mainstream R&B world is becoming more acquainted with Moss all the time. After "We Must Praise" (from his 2004 debut, The J Moss Project) landed airplay on Urban AC radio, "I'm Not Perfect" from his recent release, V2 … The Voice Returns, soon followed, making its way into the Top 20.
Even as his fan base expands, Moss says there's no greater support than his family. Consider KiKi, who isn't shy about saying how great she thinks Moss is.
"He has such an exceptionally unique gift," states KiKi. "He's got the whole package with his realness, his boldness, a loving and caring nature. His music ministers to me personally, too. There are songs that he has written that make me cry because his ministry is so powerful."
Affirmation like that, from friends and family alike, can't help but make an artist feel honored. But for Moss, it's getting the message out that's the best perk of the job, something one can't help but hear in his booming voice as he talks about his true priorities.
"My goal is simple. I want to bring people closer to Christ—that's it!" He says. "Knowing who J Moss is isn't as important as knowing who J Moss stands for and sings about. And any time you can get played on mainstream radio when you're talking about Jesus, the blood and Christianity, well, that's a good thing, whether it's one spin or a thousand."
Although he's not sure what his next step will be professionally speaking—touring, making another album or working with one of his peers as Moss is 1/3 of the much-lauded production team PAJAM (Destiny's Child's Michelle Williams, Trin-i-Tee 5:7)—he is excited about whatever God has for him.
"All I have to do is be available, and I know God will have something amazing for me to do," Moss shares. "He's proven that time and again in my life and ministry."
For more information about Moss, check out his website at insidejmoss.com.





© 2007 CCM Magazine. All rights reserved. Used with permission. Click here to try a free issue.