Jaci Velasquez Gets Credit for Reaching on "Beauty"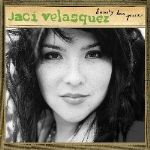 Artist:  Jaci Velasquez
Title:  "Beauty Has Grace"
Label:  Word/Curb

Flashback to 1996, when Christian music's forward and awkward sides were on display at World Fest II in suburban Chicago. On a scrappy side stage, a nascent Third Day and bands from the Five Minute Walk label moved the crowd to pogo the day away. And there on the main stage stood a teenage Jaci Velasquez, singing to — ugh — backing tapes.
Times sure have changed, and Velasquez is now an established star with more than 3 million albums sold. But for all her fans, it seems many others dismiss Velasquez's music as safe, sanitized and slick. To counter such entrenched notions takes an artistic leap of faith — and in this case, a leap across the pond. "Beauty Has Grace," the new Jaci Velasquez offering, has her teaming with London-based producer Martin Terefe (Coldplay, Ron Sexsmith). For this alone, Velasquez deserves applause; the album often boasts a fresh, bracing sound that breaks ranks with her past and Christian music conventions in general.
When "Grace" works, it suggests some mythical meld of The Bangles and Britpop. On the upbeat "I'm Not Looking Down," Velasquez recalls Susanna Hoffs with her breathy delivery, which winds around a hypnotic, tick-tock guitar riff. And on "Tonight" (a duet with Birmingham, England-native Michael Clark), she delivers a perky, foot-tapping number that thrills with a sudden rush of strings in the instrumental break.
The flaws with "Grace," however, are multi-faceted and consistent. For starters, Velasquez's attempts to genre hop from string-and-piano balladry to strident pop, alt rock and beyond make for an uneven whole. Second, Velasquez consistently opts for a safe lyrical approach where even the most vivid angst is wrapped in a bow.
And when Jaci pushes it vocally, she definitely protests too much.
On "Lay It Down," she begins with a weary, sandpapery voice — effectively presented without studio gingerbread — but then morphs into chest-thumping histrionics to rival Whitney Houston. On the opposite end of the dial, "When You Hold Me" resembles a jagged little Alanis Morissette leftover, marked by its synthesizer bleeps, distorted drum machines and Velasquez wailing, "Put Your arms around me/when I'm not worth waiting for."
That said, "Beauty Has Grace" is a risky record — and admirably so.  It may turn off her longtime listeners and fail to impress those whose shelves are stuffed with Tooth & Nail CDs, but give Velasquez credit for reaching. The end product is highly listenable, and even in her stumbling, she demonstrates a daring that reflects not just brave artistry, but a maturing faith.

© 2005 CCM Magazine.  All rights reserved.  Used with permission.  Click here to subscribe.