Jaci Velasquez, PC3, Supertones, and MWS - Feb 10 News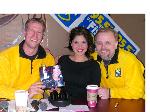 SHHHH…IT'S "TOP SECRET" – So how do you get the word out about your new album titled Unspoken that doesn't release until March 25?  Natch, you go on a 23-city "Top Secret" radio promo tour way before the disc drops.  That's just what the lovely Ms. Jaci Velasquez did recently and over 6,500 came out to support the double-genre spanning singer.  At the Cleveland, Ohio stop, Jaci (pictured here) enjoyed afternoon time with DJ Len Howser of 95.5 FM "The Fish" and Steve Brown, the station's music director.  Afterward, she met with over 500 people who braved the Ohio cold just to meet her.  Those 500 and the rest of mankind can hear Unspoken's first radio single, "You're My God", as it debuts on AC radio this week.  So listen for that.  And then look for Jaci this spring on a nationwide tour, with a second leg following in the fall.  For more info on Unspoken and all things Jaci, check out www.jacivelasquez.com.  Also, look for the aspiring thespian in her major motion picture debut, Chasing Papi, from Fox 2000 Pictures and landing in theaters nationwide this spring. 

HERZLICHEN GLÜKWUNSCH! – That's "Congratulations!" to those of you who haven't reached German fluency quite yet.  And be sure to boldly shout that phrase next time you see Paul Colman Trio or The O.C. Supertones.  Both bands o' boys have been nominated for Germany's CCM Internet Music Awards, presented by Gospelsite Germany (part of CCMPlanet.com)—only the largest contemporary Christian music Web site in Germany.  PC3 takes away five nominations:  Best International Artist, Best International Pop Album (New Map of the World), Best Live act, Best International Newcomer, and Best International Up-Riser.  On the rock side of the world, The O.C. Supertones, were nominated for Best International Artist, Best International Rock Album (Hi-Fi Revival), and Best Cover Artwork (Hi-Fi Revival).  The bonus is that you don't have to live in Germany to vote.   So until February 15, log on here and exercise your right.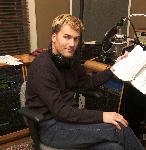 THAT WEST VIRGINIA DRAWL – If you listen to The Gospels Come to Life and think you recognize the voice as that of GRAMMY Award and Dove Award-winning artist Michael W. Smith, then you'll be righty-o.  The West Virginia native was asked to lend his narrator skills to the eight-CD set (also available on cassette) of the New Testament Gospels releasing this April 1.  The World English Bible is the translation of choice for this ambitious project with a 9-hour run time, and instrumental muzak courtesy Michael Omartian accompanies quite nicely.  "While I was simply a vehicle for communicating these sacred words," shares Smitty, "it was such a powerful experience to read aloud every chapter and verse of the Gospels and have the opportunity to consider yet again the amazing impact of God's Word."