Jaime Jamgochian's "Reason to Live" a Solid Start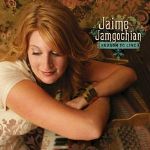 Artist:  Jaime Jamgochian
Title:  "Reason to Live"
Label:  Centricity
Jaime Jamgochian might have a last name that is hard to pronounce, but this woman's got a sincere heart for worship and tremendous songwriting talent. With her national debut, "Reason to Live," Jaime became the flagship artist for Centricity Records, a Seattle-based label run by industry veteran John Mays (one-time A&R guy for Point of Grace and Nichole Nordeman).
If you think Jaime's release is just another debut in a sea of worship leaders turned commercial artists, think again. With every song, Jaime wears her heart on her sleeve, and one doesn't have to see her beaming face to sense that every word comes from a sincere, honest place.
While attending Boston's Berklee College of Music, Jaime had the opportunity to perform backing vocals for several mainstream acts, including Carly Simon. However, after a friend led her to Christ when she was 21, Jaime was certain she could sing of nothing else but the love of Christ, and that's what she's been doing ever since.
While her lyrics are vertical in nature, the melody is pure pop. Jaime's first single and the title track, "Reason to Live," showcases the fun, energetic mix found throughout the record. "You Are" is just downright infectious and is probably the most up-tempo song on the album. But don't let the energy fool you; this record is full of worshipful moments.
The stand-out cut "Hear My Worship" has to be the most moving song on the album as she sings, "Beyond this bended knee/ Beyond the words I speak/ Beyond the songs I sing/ Hear my worship." Jaime's soft, angelic voice is often reminiscent of an early Twila Paris, yet at other times her hooks sound more like Point of Grace. Perhaps this is why Jaime has been connecting so well recently with teenage girls while leading worship around the country for "Girls of Grace" conferences.
Combine her energy and pop sensibilities with her worship-evoking lyrics, and you've got yourself an exceptional worship leader. Although Jaime's sound is nothing new and her debut doesn't capture her potential, it's a solid start to a career as a well-respected worship leader.

   


© 2006 CCM Magazine.  All rights reserved.  Used with permission.   Click here to subscribe.