Jars Moves Forward with Long Fall Back to Earth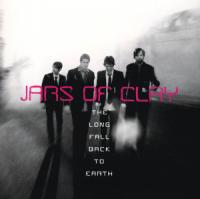 Artist: Jars of Clay
Title: The Long Fall Back to Earth
Label: Gray Matters
A big event record of the year …
Great musical acts know how to reinvent themselves—to push through the familiar to create something fresh, without losing what their fans love in the process.
A glance or listen back through Jars of Clay's discography reveals a band always moving forward—reformulating its sound and crafting lyrics that prompt the listener to see the world more clearly. After the successful rock-focused Good Monsters, Long Fall Back to Earth sounds in places like the completion of the circuitous path the band began 14 years ago, referencing other career highlights (their debut, The Eleventh Hour) while plowing ahead.
Long Fall, the band's second release on its own label (after 2007's strangely excellent Christmas gift), balances keyboard and guitar, pop and rock more carefully than any record since Hour. Skip the unexceptional single "Two Hands," among the least interesting songs here, and "Closer," released on an EP in '08. A better starting point is the moody "Safe to Land," which hearkens back to the band's debut with its skittering percussion and dark tones. Surveying a scorched relationship, singer Dan Haseltine wonders, "Is it safe/Is it safe to land?" "Hero" starts with heavily processed acoustic guitar strums that dart across the speakers, swelling into a fierce (for Jars) proclamation that "We need a hero/To save us from ourselves." Fall's other big rock cut, "Heaven," meshes Joy Division with Flock of Seagulls or Ultravox-style synths, as Haseltine & Co. sing about "Glowing/Growing/Showing on the inside/Growing where we are." It reaches an '80s art-rock crescendo with its bridge chant of "We are/We are/We are!"
The burbling piano and, later, drums and guitar of the "Long Fall" intro sound like they're on loan from MuteMath. These bleed into the pounding anthem "Weapons" (there's that '80s influence again), which admonishes its target to "Lay your weapons down/There are no enemies in front of you." The band dials it back for "Headphones," about our intentional obliviousness to the world around us, achieved by living life "with [our] headphones on," as well as the rootsy "There Might Be a Light," and "Heart," the album's closer.
This would have been a treat anyway, but coming after a year in which so many "big event" records have disappointed (Coldplay, Keane and U2, this is to you), Long Fall Back to Earth sounds just that much better.
© 2009 CMCentral.com. All rights reserved. Used with permission.




Visit CMCentral.com now and join the single largest online community of Christian music fans on the internet. CMCentral features daily music news, exclusive interviews, album reviews, weekly devotions and feature articles written by some of your favorite Christian artists, and much more. CMCentral is also the home of the most popular Forum for Christian music fans that you'll find anywhere on the Internet. Come see what all the buzz is about!

**This review first published on May 19, 2009.