"Jennifer Knapp Live" a Reminder of Talent, Spirit and Song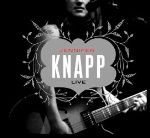 Artist:  Jennifer Knapp
Title:  "Jennifer Knapp Live"
Label:  Gotee
Is this the last we'll hear of her? Perish the thought!
When it was announced that Jennifer Knapp would go on a temporary hiatus in 2002, nobody imagined that the voluntary break would extend for so long. Even fewer surmised that the timeout would eventually evolve into an indefinite sabbatical, with a growing contingent even conjecturing that the celebrated chanteuse had retired music altogether.
Regardless, Gotee Records couldn't sit on its best-selling darling, so in 2003 it decided to call on fans to pick the songs that would comprise "The Collection," a beautifully packaged anthology of hits and rarities destined to make the faithful few wait. And wait. And wait.
One best-of compilation and three years have come and gone, and there's still no sign of a return by the singer. The next best thing, though, is "Jennifer Knapp Live," a collection of concert cuts recorded at the height of the songstress' "Back Forty Tour" in 2001.
Cynical types would call these post-retirement souvenirs mere cash-in devices meant to capitalize on her hard-earned repute. But even all the skepticism in the world cannot dispute with this:  that the singer/songwriter shaped the folk and alt-rock landscape of Christian music in the late '90s.
For this very reason, "Live" does deserve attention despite Knapp's short-lived canon. It was taped while she was touring in support of "Lay It Down," which means that album and "Kansas" get represented fairly, each of its tracks delivered with unrelenting authority, much stronger than the unassuming simplicity of the recorded originals.
Though Knapp's not much for drawing the spotlight to herself, she and her airtight backing band are always the centerpiece, particularly during the full-bodied renditions of "Romans" and "His Grace Is Sufficient," two tracks that make her sound like a performing veteran, even after only two albums.
Despite this command, she doesn't alter the tunes too much, opting rather for faithful interpretations, evidenced in the true-to-life "Whole Again" and the fan favorite "A Little More."  Ironically, the most modified tune in the set is her now-classic "Undo Me," which for a good minute or two sounds almost unrecognizable.
But she remains in control, only losing it temporarily during the erratic readings of "The Way I Am" and "Fall Down," the two lone cuts from the "The Way I Am" sessions. But by then those tunes were still young.
In all, "Live" is equal parts a melancholy listen and an unabashed rock & roll show, a bittersweet reminder of the spirit and song of Jennifer Knapp, a name whose talent we don't know if we'll ever get to hear again.


© 2006 CCM Magazine.  All rights reserved.  Used with permission.   Click here to subscribe.