Jonas Brothers' "Time" Seems Worth the Wait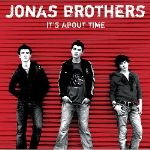 Artist:  Jonas Brothers
Title:  "It's About Time"
Label:  INO Records
It seems like a constant struggle we have in life these days is that of developing and maintaining patience. We tend to have a short fuse and a heavy desire for immediate satisfaction. Whether it's fast food, microwaves, or express lanes, we feel like our time is valuable even at the cost of our health and well-being.
As long as it's a quick fix, it's deemed to be a good thing. This is part of why we can't understand it when God puts a hold on our lives or doesn't seem to answer our prayers instantly.
For the Jonas Brothers and their fans, the last year has been quite a test of patience. After several release date push-backs – some at the very last minute – the aptly-titled "It's About Time" has finally reached the shelves. As with any delayed projects, the final album is quite different from the pre-releases that had accompanied the initial release dates, including tighter production and a few new songs. It would seem that the patience paid off as the vocals are a bit stronger and the harmonies come through a bit clearer. The new tracks fit in well with the album thematically and musically, though the addition of "Please Be Mine," a love song, in lieu of "Dear God," a song with clearer spiritual implications, may raise a conservative eyebrow or two.
The majority of the changes made were certainly for the better, allowing "It's About Time" to impact a mainstream audience (Radio Disney, etc) more effectively. Be that as it may, it's still a very simplistic and somewhat formulaic from a musical standpoint. Listeners outside of the age group of the intended audience (namely pre-teens and/or young teens) will certainly wonder why the Jonas Brothers are calling out "boy bands" on a few songs as they easily draw comparisons to the likes of Hanson, et al.
All in all, "It's About Time" is another addition to the endless list of albums that drive critical audiences crazy while charging up the charts on the strength of a loyal following. Yes, the lyrics are often silly. Yes, we may have heard it before. All that said, history has proven that if nothing else, there's an audience for this style of music and it's continually thriving. The Jonas Brothers have at least provided that audience with a decent and "safe" album to enjoy.



© 2006 CMCentral.com.  All rights reserved.  Used with permission. 

Visit CMCentral.com now and join the single largest online community of Christian music fans on the internet.  CMCentral features  daily music news, exclusive interviews, album reviews, weekly devotions and feature articles written by some of your favorite Christian artists, and much more.  CMCentral is also the home of the most popular Forum for Christian music fans that you'll find anywhere on the Internet.  Come see what all the buzz is about!