Julian Drive Debuts with My Coming Day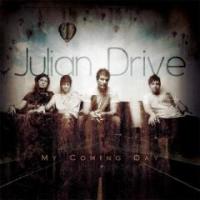 Artist: Julian Drive
Title: My Coming Day
Label: InPop Records
Pop/rock band's national debut yields buzzworthy results ...
Over the last five years, Julian Drive has already had more than its share of success for a band new to the national spotlight. Beating out 2,000 bands nationwide to win 2004's "Exalting Him" talent competition, creating substantial regional hype and sharing the stage with a literal list of Who's Who in Christian music, Julian Drive has set the stage for a promising industry launch.
Fortunately, under the influence of producer Lynn Nichols (Switchfoot, Delirious), Shane, Shaun, Jesse and James issue My Coming Day, a recording equal to the band's promotional buzz.
Setting the tone, My Coming Day kicks off with "From Your Hands," taking listeners back to love's roots in a dramatic journey from the Garden to the cross. The next three tracks ("Always There," "Cry," "In You") offer similar affirmations of faith full of hard-hitting hooks, melodic guitar riffs and impeccably solid vocals.
In fact, rather than getting lost in a heavy band mix or riding high out front, Shane Bowers' sturdy lead vocal easily fits into the band's tight pop/rock pockets, making it a viable instrument all its own.
But it is a cover of Hoobastank's "The Reason" and the anthemic title track that truly uncovers the power these men can pack into a four-and-a-half minute, radio-ready tune.
Though there's nothing out-of-the-box on My Coming Day, it is no wonder why these guys are in such high demand, especially among youthful listeners. This may be the first you've heard of Julian Drive, but you can bet it won't be the last.
© 2009 CMCentral.com. All rights reserved. Used with permission.




Visit CMCentral.com now and join the single largest online community of Christian music fans on the internet. CMCentral features daily music news, exclusive interviews, album reviews, weekly devotions and feature articles written by some of your favorite Christian artists, and much more. CMCentral is also the home of the most popular Forum for Christian music fans that you'll find anywhere on the Internet. Come see what all the buzz is about!

**This review first published on February 10, 2009.