Kathy Troccoli Tells "Story of Love" on Nineteenth Album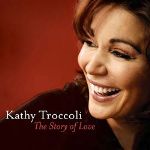 Artist:  Kathy Troccoli
Title:   "The Story of Love" (+ bonus CD)
Label:  Provident Music
When life is hard and full of trials and struggles, it's easy to get discouraged and feel alone in this world.
However, comfort isn't too far away when you consider the depth and magnitude of love that God has for us all. His story, revealed through the life of Jesus Christ, offers a clear picture of this love and unveils His glory while expressing to us the unending endearment in which we can rest and endure anything life has to offer. There is nothing more certain in life than the love of God.
Kathy Troccoli is nothing less than a veteran of Christian music. And after twenty-five years, Troccoli proves that she's still got a lot of music left in her, with the independent-esque (a joint venture with Reunion Records) release of "The Story of Love," her nineteenth album.
The ten track, forty-two minute project encourages listeners with an upbeat message reminding us that God will not forsake us. "Dancing Me Through This Life" creates one of the more memorable moments on the album with an easily relatable word picture of how God's love can sweep us off our feet and take our worries away as if we were dancing around carefree. The album also provides a model of praise and gratitude with songs such as "Lift My Hands" and a cover of the well-known "Make My Life a Prayer to You" (Melodie Green).
Musically, the album leaves Troccoli quite vulnerable with stripped down production and instrumentation that often pushes her vocals to the center of attention. At times, "The Story of Love" shows off a whimsical sound using elements of soft jazz and Latin influences while other tracks, such as "Talk to Jesus" offer a gripping vocal performance set to an acoustic backdrop. Troccoli's personality seems to come through on the tracks and her vocals are as good as ever, holding the listener's ear from beginning to end with a charming quality. Some highlights include "1 Cor 13," which is fun despite sounding a bit like an elevator ride, and "Lifting My Hands," which has the rich sound of a nice country ballad.
Overall, it's good to have Kathy Troccoli back for another outing. "The Story of Love" is a wonderful addition to her catalog and should find a welcome home with any of her fans.



© 2006 CMCentral.com.  All rights reserved.  Used with permission. 

Visit CMCentral.com now and join the single largest online community of Christian music fans on the internet.  CMCentral features  daily music news, exclusive interviews, album reviews, weekly devotions and feature articles written by some of your favorite Christian artists, and much more.  CMCentral is also the home of the most popular Forum for Christian music fans that you'll find anywhere on the Internet.  Come see what all the buzz is about!