Katinas' "Timeless" Covers Quintessential Christian Classics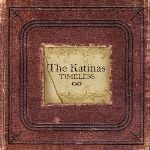 Artist:  The Katinas
Title:  "Timeless"
Label:  BHT Records
In many ways The Katinas can be seen as the modern equivalent of the classic Christian vocal group, The Imperials. Though their sibling harmonies are their true calling card, the group members change musical styles liberally and frequently.
On their BHT Records debut, they remain credulously ensconced in a genre that has no "secular" counterpart. Theirs is quintessential "Christian music," so releasing a collection of classic '70s and '80s contemporary Christian music covers makes perfect sense.
While any attempt to introduce new audiences to some of the historic and excellent songs of the past is a good thing, this collection will likely find more favor with people who have never heard the originals than with veteran fans. Deviations from the original melodies occasionally disconnect them from their historicity, and embellishments seemingly designed to showcase the brothers' harmonic vocal prowess further alienate these treatments from the mostly unassuming originals.
For example, their take on Andraé Crouch's epic masterpiece "My Tribute (To God Be the Glory)," opens with a very Coldplay-esque piano drone, adding in layers of sliding guitar lines and a mountain of stacked vocal harmonies. Modern pop fans will likely appreciate the treatment, but compared to the simple power of the original, The Katinas come up short.
When they stay truer to the originals, however, the plan works. Keith Green's "Love Broke Through," for instance, opens the disc with just the right blend of freshness and faithfulness. Similarly effective treatments are offered of Amy Grant's "Arms of Love" and Michael W. Smith's "Secret Ambition." Overly tweaked renditions of Randy Stonehill's "Shut De Do," and Russ Taff's "We Will Stand," however, are frustrating. 


© 2006 CCM Magazine.  All rights reserved.  Used with permission.   Click here to subscribe.