Keaggy Stays Close to Home on Dream Again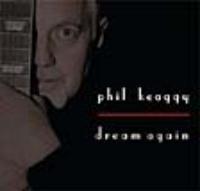 Artist: Phil Keaggy
Title: Dream Again
Label: Tag Artist Group
The wildly prodigious Phil Keaggy is back again, this time with a deeply personal somewhat stripped down acoustic project called Dream Again. I immediately liked this title, and even more so when I read a bit about Keaggy's story. After years of dealing with industry antics, he apparently felt a bit dry and needed to "dream again," a condition instantly recognized by most of us, industry or not.
He has described Dream Again, his first vocal album in six years, as a "relationship album," touching upon our relationship with God and those He has placed close to us. It comes across like a family photo album, musically speaking, giving us unrestricted views into Keaggy family history through the two gentle tracks dedicated to his older sisters ("Kathy's Song" and "How Can I Thank You"), referring to their father's illness, caretaking times, and other very particular family reference points. This kind of personal homage limits the universality of the songs, but I guess if anybody should be allowed, it's a living legacy like Keaggy. There are also songs dedicated to his wife Bernadette (the sunny Beatlesque "It's You and Me") and daughter Olivia (the bright "There with You"), and daughter Alicia joins him on the standout track "Micah 6:8," her soft vocals perfect over the airy world beats and fabulous vibes.
But I enjoyed him most when he veered off into topics more common to us all, like the well-crafted, edgy "Why," a part rock/part rap track (the rap covered by son Ian) that questions social behaviors. The slightly bluesy Dylanesque "Redemption" continues the commentary on human relations, and "Revive Me" stands out for its edgy honesty. Drummer Chris McHugh makes his presence felt in a big way on several of these tracks and Keaggy's playing is, of course, spectacular throughout. Fans will delight in the reflective "Traveling Light," the one instrumental track. The arrangements are notably unfussy throughout, allowing the melodies to shine through brightly. There's very little edge to the project, definitely a very mellow Keaggy here.
As they say, Phil Keaggy could put the phone book to music and make it entertaining. It's not the stunning rock of "Crimson and Blue" or "Find Me in These Fields," but if you're interested in the complete Phil Keaggy experience, you will find Dream Again satisfying. If you're looking for the virtuoso Keaggy, wait for the next project. But we're talking Keaggy here; the next project could be along any moment.

© 2007 CMCentral.com. All rights reserved. Used with permission.



Visit CMCentral.com now and join the single largest online community of Christian music fans on the internet. CMCentral features daily music news, exclusive interviews, album reviews, weekly devotions and feature articles written by some of your favorite Christian artists, and much more. CMCentral is also the home of the most popular Forum for Christian music fans that you'll find anywhere on the Internet. Come see what all the buzz is about!