Kerrie Roberts Makes a Memorable First Impression on Debut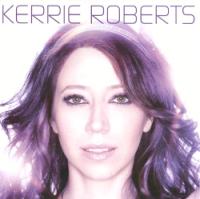 Artist: Kerrie Roberts
Title: Kerrie Roberts
Label: Reunion
A few too many ballads may weigh things down a little, but Kerrie Roberts' voice still enchants.
There are those albums that wow you right away, and then there are those that take a little time to appreciate. Such is the case with Kerrie Roberts' self-titled debut.
Funny enough, it wasn't my usual complaints that prevented me from loving it from the get-go. Unlike many first-time efforts that sound a little too much like the artist's favorite musical influences or suffer from a serious case of clichéd songwriting, neither of these maladies were present in Roberts' work.
In fact, I'm pretty sure it was just the ballad-heavy track list and decidedly slow-burn pacing after a particularly promising start that produced my initially lukewarm reaction. With a little time, however, I actually started enjoying it and suspect that other fans of Christian pop will feel the same way.
Already making a name for herself on Christian radio, thanks to her uber catchy lead single "No Matter What," Roberts does have one of those instantly memorable voices a la Natalie Grant that's definitely put to good use on her self-titled debut.
Unfortunately, if upbeat pop songs are your particular musical poison, there aren't many tracks aside from "No Matter What" that aptly showcase that side of Roberts' musical sensibilities. Truth be told, there's really only one, an assertive, synth laden track about naturally standing out in a crowd when you're a Christian called "Outcast," and sadly, that's not even one of the album's best cuts.
But for anyone who appreciates a strong female voice and honest reflections of faith, particularly in standout tracks "Unstoppable," "This Love Doesn't Run" and "Keep Breathing" there's plenty to like about Roberts' work.
If anything, listeners will probably share the sentiment that it's something that becomes more enjoyable the more it's listened to, which bodes far better for the long haul than liking something right out of the gate and quickly losing interest.

**This review first published on September 7, 2010.