Kings and Queens Authentic Worship
Glenn McCarty

Crosswalk.com Contributing Writer

2013

29 Jan

COMMENTS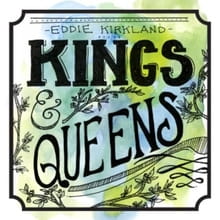 Artist: Eddie Kirkland
Album: Kings and Queens
Label: North Point Music
As a nice counterpoint to the massively popular other worship music coming out of Atlanta – that would the unstoppable force known as the Passion movement – the latest release from Eddie Kirkland is everything a fan of earnest, original worship music could ask for. Kirkland, the music director at suburban Atlanta mega-church North Point Community, delivers a warm and inspiring set of songs expertly produced by, coincidentally enough, Passion vet Nathan Nockels.
Album opener "Here and Now" is a top track, opening with a choppy beat under waves of synth. The chorus is infectious and the secondary chorus, more of a chant ("Let justice roll like a river wild/And let mercy grow like a burning fire/Let it come in the here and now"), is even more so. Though it was written for Kirkland's home congregation, it's universal enough to see many churches adopting this as their own corporate anthem.
All of the 11 tracks on Kings and Queens were either written or co-written by Kirkland, including "Keep Holding On," a compelling collaboration with Laura Story. "Glory to the King" has a Gungor vibe with choral backing vocals and chiming percussion, and "Brighter Days" has a gentle, acoustic vibe, Jason Mraz without the attitude.
The title track is the album's emotional core. More of a power ballad than a traditional worship number, it reveals Kirkland's gifts as a storyteller, as he uses a series of vignettes – among them, a divorced mother and a recovering alcoholic – as illustrations for his straightforward, yet poetic message of the chorus: "The riches found in heaven are crowned upon the meet/all the children, thieves and beggars/stand above the kings and queens." The song rises in sweep to a powerful finish. Elsewhere, Kirkland and Nockels know how to crank up the anthemic scope, when it's called for, as "Hosanna" opens with U2-esque keyboard backing before powering into an uplifting chorus.
Kings and Queens has enough high moments and is accessible enough in subject matter and style to make a welcome addition to any fan's worship collection. And the songwriting and arrangements are top-notch, allowing Kirkland's personality and delivery to shine through.
*This Review First Published 1/29/2013