"Kiss of Heaven" – Music Review
Julie Steffen

CCM Magazine

2004

20 Jan

COMMENTS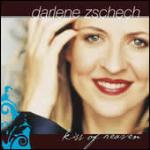 Artist: Darlene Zschech
Label: INO

Chances are good that anyone who has attended a contemporary church service in the last few years has, at some point, participated in a congregational rendition of Darlene Zschech's powerful worship classic, "Shout to the Lord."
Now on her debut solo album, "Kiss of Heaven," Zschech departs from her deeply rooted worship background to create an indisputably pop-tinged project. While the 14-track disc features a solid collection of worship songs (including an obligatory yet freshly arranged cut of "Shout to the Lord"), this album is not your typically overdone worship fare.
On this years-in-the-making project, Zschech embraces the opportunity to showcase her musical versatility by including songs as diverse as a tasteful remake of the old hymn "Beautiful Savior" as well as a savvy cover of U2's "Walk On," featuring Delirious' Martin Smith.
When you couple Zschech's sincere and powerful vocals with years of songwriting and worship expertise, this album highlights her tremendous diversity.


© 2004 CCM Magazine. All rights reserved. Used with permission. Click here to subscribe.

Watch the latest Darlene Zschech music videos on her official Godtube.com artist page!