KJ-52 Rhymes His Testimony on "Behind the Musik"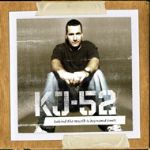 Artist: KJ-52
Title: "Behind the Musik (A Boy Named Jonah)"
Label: BEC/Uprok Records
Oftentimes the most powerful and meaningful form of sharing the gospel is by way of personal testimony. Now on his latest effort, "Behind the Musik (A Boy Named Jonah)," rapper KJ-52 invites listeners to experience his life story through rhyme. Overall these 18 songs and five interludes comprise his best record yet as his music spans a gamut of sounds — from the lighthearted pop of "Fivetweezy" to the darker, more serious rap of "Life After Death."
Listeners get a glimpse of the artist's life — what he has been through and how Christ saved him — in many of the tracks, including "Right Here," "Plain White Rapper" and, most poignantly, in "Behind the Musik." In the verses of the latter, KJ shares his story from birth until present, while the chorus reiterates "Your love goes on and on."
In addition to the album's introspective insight and pop culture references, creative lyrics and smart collaborations are also abundant. Britney and J-Lo get a mention in "For the Ladies," though not in a positive light. Video game titles pepper the tune "Video Games," and "Things I Like" is a tongue-in-cheek look at the temporal versus the eternal. "Are You Real," one of the disc's best, has more of a rapcore feel, thanks to guest vocalist Jon Micah Sumrall of Kutless. Worshipful tracks "God" and "Right Here" borrow choruses from songs by Rebecca St. James and Jeremy Camp, reworked with tight rap verses and beats.
On the surface, "Musik" is a well-produced album with cool songs; but, ultimately, the deeper message within is a life-changing one.

© 2005 CCM Magazine. All rights reserved. Used with permission. Click here to subscribe.

Check out KJ-52 music videos at Godtube.com.