Kristy Starling, Avalon, and Sanctus Real - Feb 5 News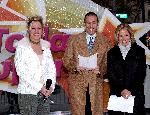 THE MAKING OF A STARLING – American Idol?  Fuggedaboudit.  Star Search?  Who needs it?  Not when you have NBC's The Today Show's "Today's Superstar" which ran twice weekly this past fall and generated finalist Kristy Starling who was selected from more than 4,000 entries.  Well, not only did Ms. Starling win second place overall (only 1,100 votes behind the winner!), but she landed herself a record deal with Warner Bros. Records Christian Division.  In fact, just yesterday The Today Show ran a segment on Kristy's signing and the process of landing a deal, along with an interview by Katie Couric.  And now the scurrying has begun to gather together a slew of big name producers (David Foster, Richard Marx, Billy Mann, Pete Kipley, Dan Mukala) and lay some tracks down to make an April 15 release date.  Kristy will unveil the album and perform on The Today Show on April 18—that's Good Friday, in case you forgot. 

GET TO KNOW ME – Avalon's newest member, Melissa Greene, will testify to great vocal ability this spring as she takes her singing turn in "Everything to Me", the first single from Testify to Love:  The Very Best of Avalon.  Just released to radio last week, the single features a Melissa solo (along with group member Michael Passons), as well as production by Tedd T. and Brown Bannister.  If you don't hear it, call your local Christian radio station and request it!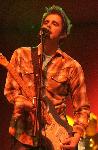 PEOPLE ARE LISTENING – Seems that Say It Loud has indeed been heard loud and clear, and now the debut from Sparrow Records rockers Sanctus Real is going mainstream.  On February 11, the 12-song project will be released to mainstream retail outlets through EMD.  Already, the title track also had a bit o' mainstream exposure via the tube, thanks to FOX Network's new drama, John Doe.  For some touring exposure, be sure to catch Sanctus Real as they continue their touring frenzy on the 50-city "See Spot Rock Tour" this spring with The O.C. Supertones, Relient K, Pillar, and John Reuben.  More info at www.sanctusreal.com.